Senator Brown Woos the Women of Massachusetts
But does he really like us? His record suggests otherwise.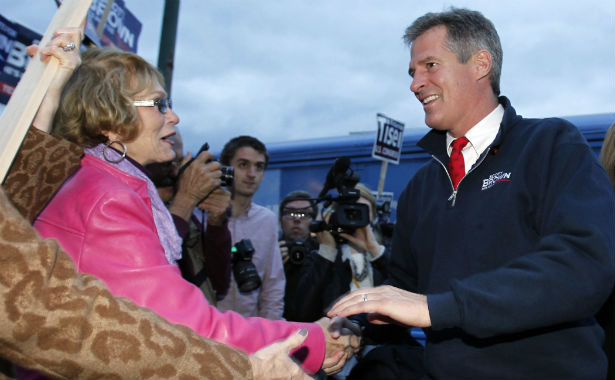 Jessica Rinaldi/Reuters
I am an unaffiliated female voter in Massachusetts, and a cute guy running for Senate is sweet-talking me. Scott Brown wants me to know how much he cares. I'm playing hard-to-get, but his letters keep coming, assuring me of his commitment to equal pay, reproductive choice, and the rights of military women.
His letters are warm and friendly, filled with pictures of happy women. I feel like we're on a first-name basis, and if I didn't know better, I'd think Scott was a Democrat, or at least an independent like me. I'd think he was a feminist. If I didn't know better, I'd consider him a guy who respected women and could be trusted not to lie to them.
But I know Scott's record. I know that he voted
against
the Paycheck Fairness Act, a follow-up to the Lily Ledbetter Fair Pay Act, which his mailers (and TV ads) claim he supports. I know that as a U.S. senator he voted against an
amendment
 allowing women in the military to obtain privately financed abortions at military facilities and
voted for
the Blunt Amendment, allowing employers with moral qualms about contraception to deny contraceptive coverage to female employees. Knowing about votes like this, I'm not surprised that he won an
75 percent
 approval rating from the National Right to Life Committee. (John Kerry's rating, for reference, is 0 percent.)
I know, too, that in the Massachusetts state senate, Scott co-sponsored a measure requiring women seeking abortions to endure 24-hour waiting periods and review cautionary pictures and "information" about fetal development. I know that that he's strongly opposed by pro-choice groups and supported by Massachusetts Citizens for Life.
I don't know who will win the Massachusetts senatorial race, which remains much too close to call. But I think I know why Brown has pulled out of the third and final debate with Elizabeth Warren. Sandy gave him a good excuse for canceling: The debate was initially scheduled for October 30, the day after she stormed though (doing relatively little damage in Massachusetts).

Moreover, he has a good electoral reason for refusing to reschedule. Warren effectively challenged Brown's commitment to equal pay and choice at the last debate, and since then he's been furiously disseminating misinformation about his "strong record supporting women." Why risk being confronted with the facts in a televised debate less than a week before the election?
Brown has branded himself an independent, pro-choice, pro-women's-rights advocate, and I suspect that some unaffiliated women will believe his campaign claims. (Independents tend to be the least politically informed and interested of voters.) It's hard to imagine Brown cutting deeply into Warren's lead among women, but in this close race, he may need only to seduce a minority of female voters on the periphery. He's targeting those who don't know better -- betting that they'll vote for him today, in the belief that he'll still love them tomorrow.