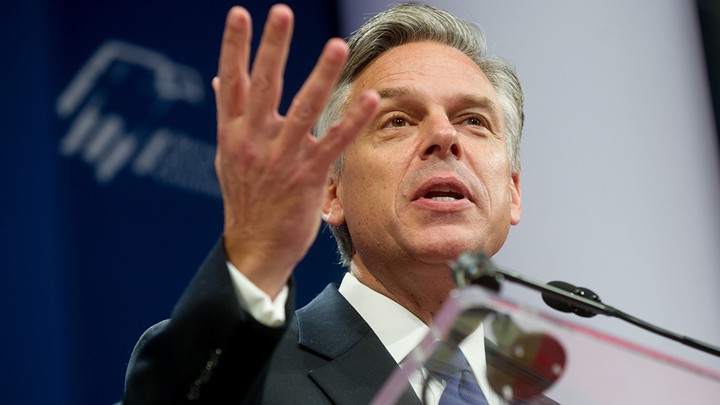 Republicans sparred on Sunday over the future of the party, discussing what the formula might be to achieve more success at the ballot box in coming years.
Former U.S. Ambassador to China and Utah Gov. Jon Huntsman said the party's economic message is sound. However, he also said the party has to a better job at reaching minority voters and staying out of social issues.
"As a father of seven, married for 30 years, people can see the way I live my life. I don't need to sit there and rub it in people's faces, for heaven's sake," he said on CNN's State of the Union, adding that, "The discussion that this nation wants to have is about solutions. It's not about right. It's not about left. It's not about moderates. It's about solutions to problems that are insolvable these days because we have a Congress that can't seem to get their act together."
Former Commerce Secretary Carlos Gutierrez, who advised Mitt Romney on Latino outreach, said the Republican Party should move away from measures that would make English the official language of the U.S. and other measures that scare Latino voters.
"I think the party is truly the party of growth and prosperity, and that's where you get into things like immigration," he said. "If we want to be the party of growth and prosperity, we have to be the party of immigration, so we should be leading comprehensive immigration reform"¦ This is like we're competing for investment capital. We're also competing for human capital, and our party is scaring the heck out of them."
However, Rep. Cathy McMorris Rodgers, R-Wash., didn't think the party needed to moderate, saying that it was communication, not policy, that needed adjustment.
"I don't think it's about the Republican Party needing to become more moderate," she said on CNN. "I really believe it's the Republican Party becoming more modern, and whether it's Hispanics, whether it's women, whether it's young people, the Republican Party has to make it a priority to take our values, take our vision to every corner of this country, to every demographic group, and I am confident that we can do it."
See all NJ's Sunday show coverage | Get Sunday show coverage in your inbox
We want to hear what you think about this article. Submit a letter to the editor or write to letters@theatlantic.com.