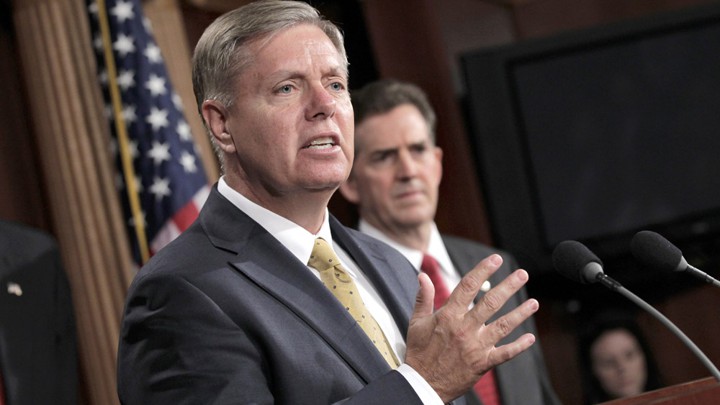 Several congressional Republicans bucked Americans for Tax Reform President Grover Norquist and his anti-tax pledge on Sunday and Monday, saying that GOP lawmakers will have to keep their options open in order to strike a deal that averts the fiscal cliff.
Senator Bob Corker, a Republican from Tennessee, said on Monday on CBS's This Morning that he is "not obligated" on the anti-tax pledge, adding that "the last thing we need to do right now is kick the can down the road." 
Sen. Lindsey Graham, R-S.C., said on Sunday that he will not give way to raising tax rates, but he also said Republicans need to be open to increasing government revenues.
"I think Grover is wrong when it comes to "˜We can't cap deductions and buy down debt,'" Graham said on ABC's This Week, adding, "I will violate the pledge, long story short, for the good of the country, only if Democrats will do entitlement reform."
Last week, Sen. Saxby Chambliss, R-Ga., told a local television station that he is more worried about the fiscal cliff than he is about adhering to the pledge, prompting a response from Norquist, Politico reported.
Rep. Peter King, R-N.Y., echoed these sentiments, saying times have changed since he first signed the pledge.
"A pledge you signed 20 years ago, 18 years ago, is for that Congress," King said on NBC's Meet the Press. "If I were in Congress in 1941, I would have signed the declaration of war against Japan. I'm not going to attack Japan today. The world has changed."
With fiscal cliff negotiations starting up again following the Thanksgiving break, Graham sounded optimistic that Congress could reach a deal in time to stave off the massive spending cuts and tax increases slated to take effect at the beginning of next year. Joining him in that optimism was Sen. Dick Durbin, D-Ill.
"We can solve this problem," Durbin said on ABC. "Tomorrow, there's no excuse: we're back in town."
Durbin, the Democratic whip, said the House should pass a Senate-approved bill to keep the Bush-era tax cuts for most Americans, leaving negotiations over the rates for wealthy Americans for later debate. Durbin said Republicans should be open to raising rates, citing Democratic willingness to examine changes to entitlement programs.
King said he has faith that House Speaker John Boehner, R-Ohio, and his colleagues could strike 0a deal, saying Republicans need to keep an open mind.
"I'm not going to prejudge it," he said. "We should not be taking iron clad positions."
King, however, did say that he was absolutely against increasing tax rates.
See all NJ's Sunday show coverage | Get Sunday show coverage in your inbox
---
Lara Seligman contributed contributed to this article
We want to hear what you think about this article. Submit a letter to the editor or write to letters@theatlantic.com.