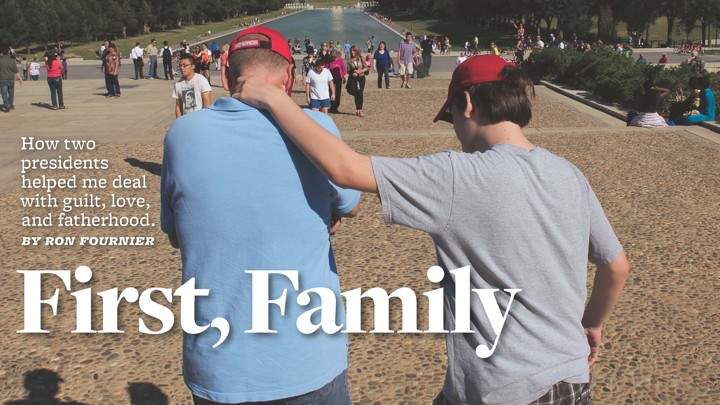 A few years ago, my wife sampled an NBC drama called Parenthood and was transfixed by a character named Max Braverman, a smart, sweet, socially awkward teenager who both facinates and frustrates his anxioius parents. He reminded Lori of our son Tyler. "Watch the show," she told me.
I did, and that simple moment started us down a path toward a diagnosis for Asperger's syndrome, a form of autism that hinders social interaction, and to Lori's heroic efforts on behalf of our son. Her plan included father-son trips (I called them "guilt trips") to U.S. historical sites, visits with two presidents and an article on the experience published today in the National Journal magazine.
Then all hell broke loose. Lori called it "another Max Braverman moment" — the outpouring of emotional reaction to the piece, unlike anything I've experienced as a reporter covering the White House and presidential campaigns. "Tyler struck a chord," she said. (One thing you should know about Lori: She's always right.)
The reaction via tweets, emails and telephone calls breaks down into five categories.
First, a true Max Braverman moment — that is, people who recognized themselves or a loved one in Tyler. "OMG," read an e-mail from an Iowa school teacher who asked me not to disclose her identity to protect her son's privacy, "Zack is Tyler. Tyler is Zack. Like your brave and smart wife, I've wondered what I could do for him. Now I know to get him tested. Thank you for sharing."
John Selleck, who ran Michigan for the Mitt Romney campaign, said his 6-year-old son felt misunderstood by teachers and peers despite his wicked smarts. "These seeming contradictions bedeviled schools' principals and teachers, and his parents." Selleck's son was recently diagnosed with mild Asperger's. 
"Only through 'ah-ha' moments like reading your story did it all start coming together," he said.
Second, and by far the largest category, are the "like-me" response. Hundreds, if not thousands, of people said they found comfort in reading about another family facing troubles like their own.
"My wife and I are working through some similar issues/behaviors with our 13-year-old son," wrote Craig Scates, a management consultant in Raleigh, N.C. "Having shared some of your same experiences and feelings, your story was encouraging, affirming and inspiring for us."
"I can't tell you how much your article today inspired me," wrote Richard Coolidge of ABC News. "I have a 14-year-old who sounds very similar to Tyler."
And there were countless tweets:
@suzannepotts: Thank you for summing up our lives with Asperger's.
@joneesuz: "¦ And Ron, as a mom of an "awkward," gifted son, this is LOVELY. Well done, dad.
@javite: I can't thank you enough (as Mom of Aspie). Shared this with my parents as they don't get it. "Why won't he play baseball?"
What's going on here? I think it's simple: In these fast-changing times, with technologies and pressures pulling us away from one another, we find comfort in knowing that we're not alone, especially while addressing life's biggest challenge. It is sublimely ironic that it took technology (primarily the Internet) to bring thousands of us together around Tyler's story.
The third category is one I didn't see coming: Parents seizing on the story as a reminder to strike a work-life balance.
"I read every word of your story," wrote Rich Matthews, a former colleague of mine at the Associated Press. "And the whole time I said to myself, "Am I a good dad?" How do my kids feel when they are looking me in the eye talking to me and I'm reading 'an important' e-mail on the Blackberry?"
As John Kerry might say, who among us hasn't felt that pang of guilt?
The fourth group of responses centered on the lessons of parenthood shared by caring people.
"I have come to realize as parents we sink a lot of expectations into rearing of our kids — to create a better version of ourselves — but when life strips that away, we know that we only want happy and healthy and that's it," said Kristian Denny, a Democratic operative and mother of two in Arlington, Va. (Disclosure: she and her husband, NBC reporter Chuck Todd, are friends of mine).
Russell Shaffer e-mailed to tell me in aching detail how detached he is from his father. "But does he love me? I know he does. So much to say "¦ but that is my thought."
Finally, there were the responses I couldn't easily put in a bucket. Like the tweet by @NovElection2016: "That piece proves that you journalists are so self-absorbed "¦"
Well, no argument there, and here's one more tweet: "Good job, Bill Clinton and George W. Bush," wrote @KlausMarre, echoing the sentiments of many readers who appreciated the grace and kindess the presidents showed my son.
Almost a decade ago, and years before Tyler was diagnosed, Bush briefly met Tyler in the Oval Office and told me to "love that boy."
It took me years to unwind that simple presidential directive with our story. If you bear with me, I'll explore the topic in future posts. Why did the presidents agree to do this? Who bonded best with Tyler? But first, I need to wrap  up some work and get home.
We want to hear what you think about this article. Submit a letter to the editor or write to letters@theatlantic.com.