Presidency May Rest on Minority Turnout, Uptick Over 2008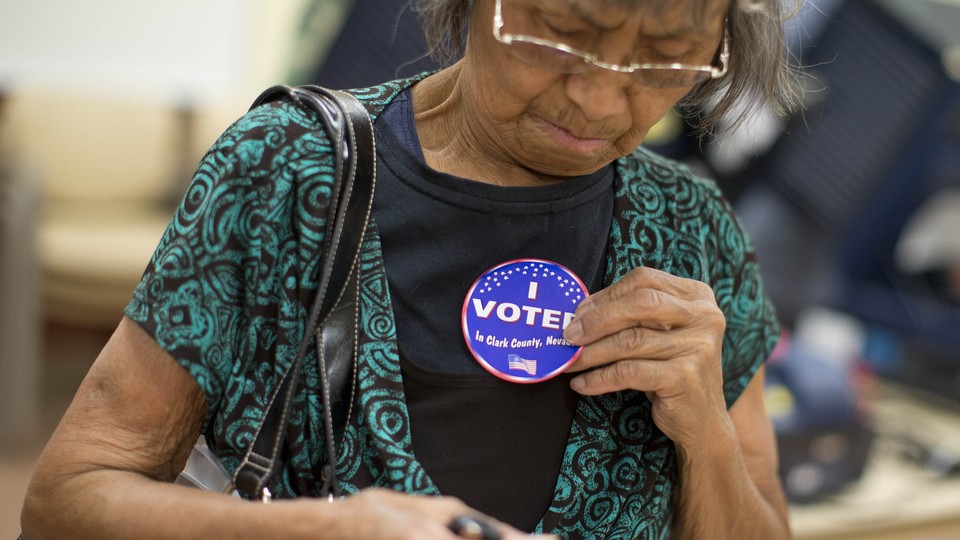 Given the continual and increasing influence of the Hispanic voting bloc, minority turnout on Tuesday will play a key role in determining the presidency and other elections.
Election observers say President Obama needs 80 percent of all minority votes to win. His victory, therefore, hinges on two things: the level of enthusiasm among minority groups at the polls and whether he can match the 26 percent of the minority share that the total vote represented in 2008.
In a National Journal article, Ronald Brownstein examines Obama's struggle to maintain even 40 percent of white voters, making retention of the minority vote even more critical in battleground states where their density has increased since 2008.
Overall, eligible minority voters — U.S. citizens aged 18 or older — grew by 3 percent in the past four years, according to a state-by-state analysis by Ruy Teixeira and William Frey, lead demographers at the Center for American Progress and Brookings Institute, respectively.
Critical is the growing bloc of Hispanic voters. A Pew Hispanic Center report shows 23.7 million Hispanics are eligible to vote on Tuesday, about 4 million more than in the last presidential election. Today, Hispanics account for a record 11 percent of the overall electorate, up from 9.5 percent in 2008.
(RELATED STORY: The Hispanic Vote Is the Story of the 2012 Campaign)
And Hispanics increasingly lean Democratic. A Pew survey shows that 61 percent of Hispanics say they believe the Democratic Party best represents their interests, a sharp rise from 45 percent last year. Only about 10 percent of Hispanics feel they are better represented by the GOP, down 2 percentage points from 2011.
An ImpreMedia and Latino Decisions tracking poll released on Monday shows that if the Latino vote is as high as it is projected to be this time around, Obama will win a record-high share of the Latino vote. About 73 percent of likely Hispanic voters said they plan to vote for Obama, compared with 24 percent who indicated they would back GOP challenger Mitt Romney.
"If Obama wins 73 percent or higher of the Latino vote, it would eclipse the 72 percent won by Bill Clinton in his landslide reelection in 1996, and marking the highest total ever for a Democratic president," according to an analysis by Latino Decisions, a political opinion research firm. If Latinos flock to the polls, they could deliver Nevada, Colorado, Virginia, and Florida to Obama. The same poll showed that 55 percent of likely voters say they are more enthusiastic about voting this year than in 2008.
While a galvanized Latino block is essential to Obama's hopes, he also needs to receive the support of most African-Americans, Asian-Americans, young people, and blue-collar and college-educated women.
One in six Asian-Americans and Pacific Islanders reside in a battleground state, according to California Reps. Mike Honda and Judy Chu, both Democrats. Honda's new 17th Congressional District, which encompasses Alameda and Santa Clara counties, is now the first AAPI-majority district in the continental United States. But much like the Latino community, Asian-Americans are a relatively young population, which means a significant segment is not yet eligible to vote.
Nonetheless, among eligible voters, this constituency is largely undecided, which means both parties have an opportunity to court them, says Christine Chen, executive director of the Asian and Pacific Islander American Vote. Her organization is following closely the presidential race in Colorado, Florida, Minnesota, Nevada, Ohio, Pennsylvania, and Virginia, all states where the Asian and Pacific-Islander electorate is growing. "Even with a 2008 average of 55 percent voter registration rate for the AAPI voters, we can be a swing vote due to the tight race," she said.
In Virginia, a fiercely contested state, Asian-Americans make up only 6 percent of the population, but their vote is highly desired in the race for the presidency, reports National Journal. This is especially true in counties where the popular vote went to Democrats in the last two presidential elections after it flipped from voting GOP in 2000.
The Obama camp banks on its share of minority voters nudging up 2 percentage points, to 28 percent. But there are concerns about not reaching that share of nonwhite votes. Advocates have said voter-ID laws in Republican-controlled states — namely Arizona, Florida, Ohio, Pennsylvania, and Texas — could dilute minority turnout.
Still, these same initiatives could spur determined minority voters to show up, ID proudly in hand, some have argued.
There is also a sense that passing voter-ID laws in those five GOP states is a Republican maneuver to suppress minority votes. A recent Government Accountability Office study, conducted at the request of one independent and three Democratic senators, failed to produce any prosecutions or convictions for voter impersonation in any of those states, cementng a perception that the GOP is trying to keep minorities from casting ballots on Tuesday.
And it may be the added push that will get minorities to vote, urge their neighbors to vote, and become poll-watchers, said E. Faye Williams, president of the National Congress of Black Women, during a recent event calculating the minority vote. "I think it's going to motivate a lot of people this year," she said.
The issue of immigration could also spark greater voter turnout among Hispanics and other minorities. An October Latino Decision poll shows that 48 percent of Virginia Hispanics ranked immigration and the economy as the issues most influencing their presidential vote.
And it was exactly these voters whom Obama likely addressed during a recent interview with The Des Moines Register when he said he would put immigration reform front-and-center if reelected. "A big reason I will win a second term is because the Republican nominee and Republican Party have so alienated the fastest-growing demographic group in the country, the Latino community," he said.