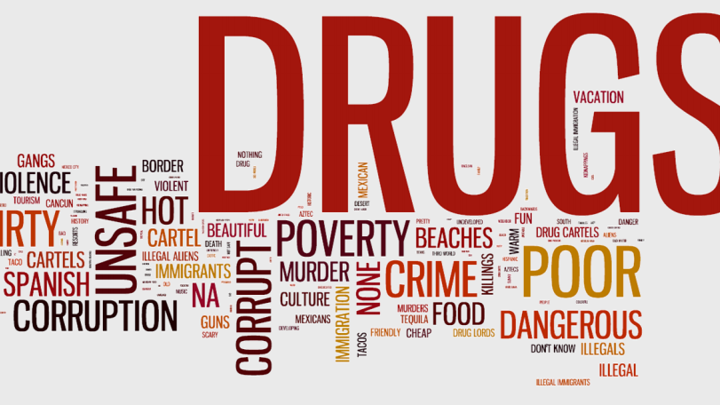 As the newly elected Mexican president travels to Washington next week, a new survey released by consulting firm Vianovo on Monday underscores the startling challenges Mexico faces with its international image, especially in the U.S.
The survey highlights what has been widely assumed: that Americans have a generally unfavorable view of Mexico. But while illegal immigration and border crossings may be at the forefront of concerns in the Southwest, drugs and corruption are the ringing concerns of most Americans.
"Drugs" was the word most often used to describe Mexico by those surveyed, as is stunningly illustrated by the survey's word cloud. Additionally, 72 percent cited drug cartels and traffickers as the main reason behind their negative perception of their neighbors to the south.
Of those surveyed, an astounding 72 percent of Americans think Mexico is unsafe for travel and only 17 percent consider the country to be modern.
This correlates with Americans' overall view of Mexico, which ranks near the bottom among 10 other countries that were part of the survey. Ranking third-lowest, with 50 percent of Americans holding an unfavorable view of Mexico, the country hovers around the levels of Colombia and El Salvador. Meanwhile, Brazil, an economic rival of Mexico, is seen more positively among Americans.
The root of Mexico's image problem in the U.S. comes largely from the negative news stories emanating from south of the border. Among those surveyed, 81 percent say news they have heard in the last month was related to drug problems and cartel violence. Further, with the death of a U.S. Border Patrol agent and other issues surrounding the border, the negative image is only perpetuated.
This links to the 59 percent of Americans who said Mexico is a source for problems in the U.S., while only 14 percent said they were good neighbors.
Americans, however, do find a distinction with regard to geography. The most unsafe areas of Mexico, according to the survey, were border cities and Mexico City. Cancun, on the other hand, had an overall positive perception.
In President-elect Enrique Peña Nieto's meeting with President Obama in the White House next week, these issues, along with the continued economic partnership between the two nations, is likely to be the focus of conversation.
The poll was conducted with 1,000 U.S. adults between Oct. 3 and 7 in partnership with GSD&M, and has a margin of error of 3.9 percentage points. Those surveyed were asked about Canada, the United Kingdom, China, Greece, Russia, Brazil, Saudi Arabia, Turkey, Mexico, Colombia, and El Salvador.
We want to hear what you think about this article. Submit a letter to the editor or write to letters@theatlantic.com.