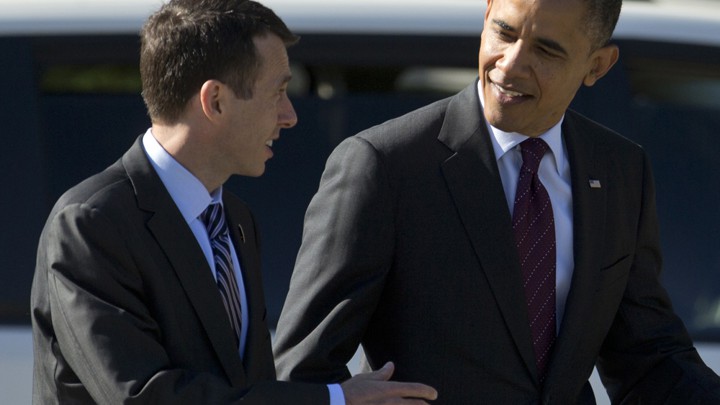 The Obama campaign is going into the final days until Election Day playing offense, one of its senior advisers said on Sunday.
Citing the president's slight leads in battleground states and the upper hand on early voting, Obama campaign senior adviser David Plouffe sounded confident about Obama's chances for reelection.
"We've always known this was going to be a close race, but it is going to be decided in the battleground states, and we think in those states "¦ we have an important lead," Plouffe said on ABC's This Week. "I'm confident two days from now the president will be reelected. We have the support to win this election."
Plouffe concentrated on Obama's ground game, especially in Pennsylvania, where the Romney campaign has focused attention in recent days. Plouffe called it a "desperate ploy at the end of a campaign," and said Romney would have to win two-thirds of independent voters there to carry the state.
Plouffe cautioned that "Support levels don't mean anything unless they materialize into vote," and said the campaign is "throwing everything we can at this." That includes putting former President Bill Clinton and First Lady Michelle Obama on the campaign trail.
The president himself got back to campaigning on Thursday, after a hiatus during super-storm Sandy, which caused major damage in New Jersey and New York. Obama received wide praise for his handling of the storm, even from some Republicans. But others, like former New York City Mayor Rudy Giuliani, criticized the president for campaigning while there was still a need for recovery.
"I don't know what the heck he was doing in Nevada while people were still being discovered dead in New York. If I were the president of the United States, I sure wouldn't be flitting around the Midwest and the West," he said on Friday on CNN. "I feel pretty darned offended seeing my president floating around campaigning while people are suffering the way people in New York, New Jersey and elsewhere are suffering."
Plouffe dismissed the criticism from Giuliani, quipping, "Well, Mayor Giuliani is running around the country campaigning for Mitt Romney and popping off. "¦ This is going to take a long time, and the federal government is doing all that it can."
Karl Rove, the former Bush strategist and founder of the conservative super PAC American Crossroads, said last week that the storm would be a boost for Obama politically. Plouffe said the campaign wasn't worried about the politics of the storm, and took a jab at Rove.
"My sense is that Karl is going to be at a crossroads himself on Tuesday when he tries to explain to the people who wrote him hundreds of millions of dollars why they fell up short," Plouffe said.
See all NJ's Sunday show coverage | Get Sunday show coverage in your inbox
We want to hear what you think about this article. Submit a letter to the editor or write to letters@theatlantic.com.