Photo: Romney, Ryan, and Biden's Planes Meet on the Cleveland Tarmac
In election 2012, all flight patterns lead to Ohio.
Even with just hours left before the polls close, the campaigns aren't missing a chance to drum up a few last votes in Ohio. Mitt Romney and Paul Ryan were both scheduled to be in Cleveland for an Election Day rally today, and Joe Biden added to the fun by making an unannounced visit. The result: tarmac hell. CNN's Rachel Streitfeld tweeted this picture, showing all three men's planes at Cleveland-Hopkins International Airport (Air Force Two is the one in the background):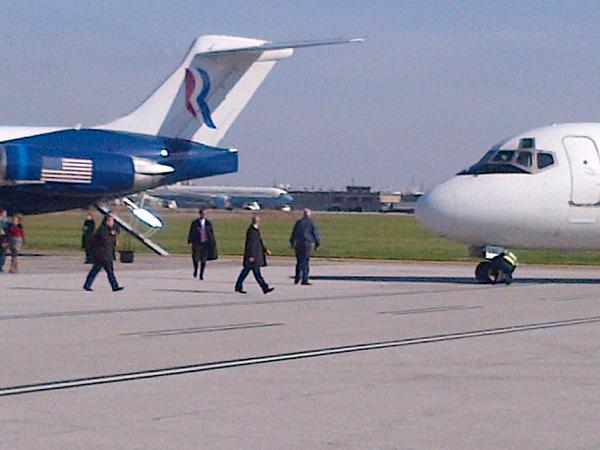 Romney is headed to Pittsburgh next, Ryan to Richmond, Virginia. It's not yet clear where Biden's going, according to pool reports.
Anytime a presidential or vice-presidential candidate is at an airport, it's a recipe for congestion, due to security concerns. But three of them? As National Journal's Jill Lawrence pointed out, that's insult to injury for local voters already tired of excessive attention from the campaigns:
Three-plane traffic jam upcoming at Cleveland airport (Romney, Biden, Ryan). And Ohioans thought this was over.

— Jill Lawrence (@JillDLawrence) November 6, 2012
Hang in there, Ohio. It's just a few more hours. Unless, of course, you send this to a recount.