Ohio's Provisional Ballot Order: The Biggest Legal Story of the Weekend
A late voting directive from Ohio Secretary of State Jon Husted begets an "emergency motion" about how to count provisional ballots.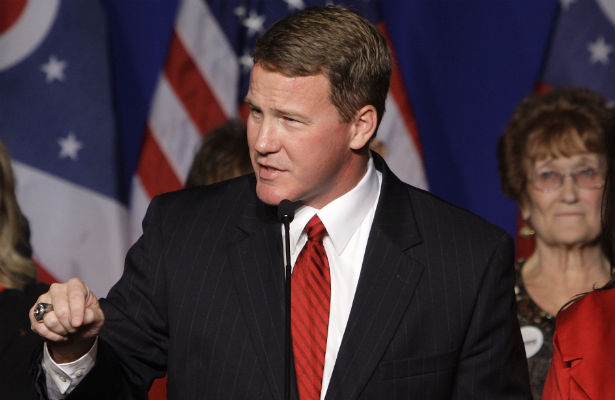 Associated Press
With just a few dozen hours left before polls open on Election Day, here is a candidate for the most important election-law story of the weekend -- a story likely to cross over into the general political debate Sunday through Monday. This early copy from the Associated Press offered a hint:
COLUMBUS, Ohio -- Voter advocates are criticizing an order by Ohio's elections chief dealing with the casting of provisional ballots. Advocates are saying on Saturday that the order by Ohio Secretary of State Jon Husted late Friday wrongly puts the burden of recording the form of ID used on a provisional ballot on voters, not pollworkers ....
Here's what happened. On Thursday, voting-rights advocates filed an "emergency motion" with a federal trial judge seeking his reassurance that provisional ballots in Ohio will be judged by the standard he endorsed (and Ohio reportedly agreed to) in a recent consent decree. That standard, the plaintiffs say, is "that a provisional-ballot form that has incomplete or improperly completed information regarding the type of identification proffered by a voter should be counted pursuant" to Ohio law, which, they say, makes the poll worker responsible for taking down the information. Here's a link to that motion.

Ohio has not yet responded to it with a filing in court -- the state's deadline is Monday. But it was a full day after this motion was filed that the secretary of state, at 6 p.m. on the Friday before the election, issued his contrary directive, the text of which you can read in this timely piece by Judd Legum. The issuance of the directive in turn prompted lawyers for the plaintiffs in the case to go back to U.S. District Judge Algenon Marbley with an even more urgent request, filed late Friday evening:
This new Directive makes an affirmative change to the previous provisional ballot counting standard, beyond what was required to comply with this Court's and the Sixth Circuit's recent orders. Instead, contrary to this Court's October 26, 2012 decision, the Secretary's representations to this Court on October 24, 2012, and the Constitution, the Secretary is now ordering that county boards of election must reject provisional ballots when the identification information contained in Step 2 of the ballot affirmation form 12-B is incomplete.
The contours of the legal dispute aren't narrowing, as some legal disputes do at this stage of an election contest, but instead are growing. They are growing because the secretary of state has just doubled down on his position about incomplete provisional ballots. If he was wrong on Thursday, you could say, he was even more wrong on Friday. And that will likely mean a Monday ruling* from Judge Marbley which will then be appealed into Tuesday (and beyond) to the 6th U.S. Circuit Court of Appeals. Folks, the legal fight for Ohio's votes is already here and here to stay. Here from The Columbus Dispatch are the money quotes:
"The bottom line is that (Secretary of State Jon Husted) designed a form that violates Ohio law by improperly shifting to voters the poll workers' information-recording responsibilities regarding ID to voters, and then he wants to trash votes where there is a problem with the form on the section he misassigned to voters," said Cleveland attorney Subodh Chandra, who filed the motion ....

Husted spokesman Matt McClellan said the Friday directive actually was designed to concur with the Oct. 26 order of U.S. District Court Judge Algenon Marbley in a legal dispute over provisional ballots. "We wanted to make sure we complied with those directions," McClellan said. Voters will complete the same form they did in the March primary and August special elections. We're not doing anything new," he said. "Voters have to provide ID when they vote provisionally."
This dispute is important for many reasons. First, it's probably the most direct evidence yet that Ohio will be counting its provisional ballots for days or even weeks past Tuesday. The blossoming argument above assumes as it must that there will be a great deal of anxious vote counting after Election Day. This scenario hasn't exactly been a secret. But here's an actual live dispute for us all to watch. It's also a reminder that anyone rooting for a resolution Tuesday night (or early Wednesday) ought to hope that it doesn't all come down to Ohio. If it does, it will be weeks -- and one judicial hearing after another -- before we have an answer.

The motion also is important for what it says these days about Husted and the way he is running the state's elections. Leaving aside the provisional ballot court fight for a moment, Saturday's early voting period was hectic, largely because Husted and his fellow Republicans succeeded this cycle in reducing the number of early-voting weekends from five to one. Indeed, they tried to eliminate all such early voting, which traditionally helps wage earners who can't vote during regular business hours on weekdays, but were rejected in this effort by the federal courts.

What does it mean on the ground and to the exercise of a registered voter's right to vote? From The Washington Post late Saturday: "In Cuyahoga, 36,578 had voted as of Friday; in 2008, that number was 54,340. In 2008, there were nine additional early voting days here, and 9,933 people voted on those days." And Husted? While I was searching for the above copy I found another Associated Press story, also dated Saturday, which noted: "Husted says in a statement that voting has gone smoothly in Ohio and he expects absentee voting this year to surpass 2008."
*We are now being told the deadline for the State's submission is late Tuesday, with reply briefs due from the plaintiffs on November 8 and a written order from the judge to follow. Even more reason to realize that if the election comes down to Ohio it will be a while before we know who has won.