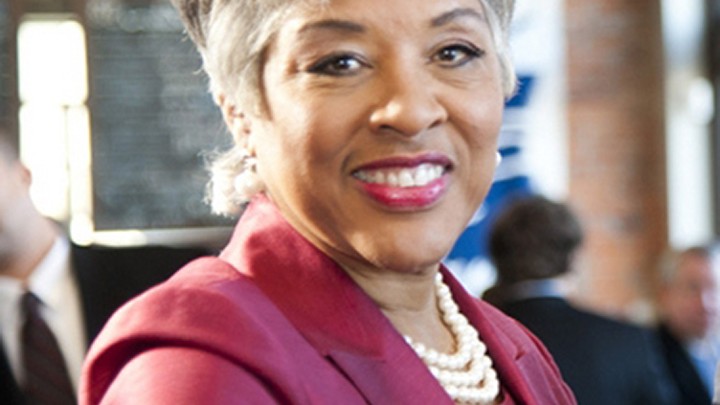 Joyce Beatty was inspired to get into politics by the civil-rights movement, and the Democrat's election to the House marks the first time that Ohio will have two African-American members of Congress serving together. The other is Cleveland Democrat Marcia Fudge.
Beatty is the daughter of a brick mason and stay-at-home mom. Her parents moved from the inner city to a predominately white neighborhood with better schools when Beatty was young, and she and her family were the only blacks on their street in Dayton. Her high school became integrated in her freshman year. Beatty's parents constantly stressed the importance of civil rights for women and African-Americans, and her interest in politics was fueled by hearing Jesse Jackson speak at the 1984 Democratic National Convention.
She did her undergraduate work in speech and psychology at Central State University and later earned a master's degree in counseling from Wright State University, both in Ohio. She worked in a series of jobs in local and county government and academia, eventually becoming senior vice president for engagement and outreach at Ohio State University. She also owned a consulting business and a clothing store in downtown Dayton. Beatty served in the Ohio House for nearly a decade, including a stint as minority leader from 2006 to 2008. She was instrumental in passing legislation that helped women without health insurance get lifesaving cancer screenings and that fought home foreclosures and encouraged financial-literacy education. Her husband, Otto Beatty Jr., was a member of the state's General Assembly for almost two decades.
When she entered the race for the newly drawn 3rd District encompassing much of Columbus, Beatty cited her knowledge of how to "make a payroll" and her ability to work with businesses and labor unions to bring jobs to central Ohio. She made education a central focus of her campaign, drawing on her background to call for making college more affordable and bringing public-private partnerships to the area to work on job-training initiatives with community colleges and training centers.
Instead of traditional town hall-style meetings, Beatty held what she called "listening tours," bringing in "everyday folks," such as small-business owners and educators, to speak to voters. "I want to come back home and increase the opportunities for jobs, to build hope that other women will be able to say the oldest words of storytelling: that "˜Once upon a time, there was a black woman that went to Congress,' " she said.
With the endorsement of Columbus Mayor Michael Coleman and strong financial support from labor unions, Beatty in March narrowly beat out three other candidates in the Democratic primary. Among her opponents was Mary Jo Kilroy, who had represented the 15th District for one term until her defeat in 2010. Beatty had far less trouble dispatching Republican Chris Long, a Reynoldsburg City Council member, in the general election. Well before the election, she had drawn the attention of national Democrats. House Minority Leader Nancy Pelosi traveled to her district for a forum with her on health care policy, and she was given a speaking slot at the Democratic National Convention in Charlotte to address the role of women in the economy.
Lara Seligman
We want to hear what you think about this article. Submit a letter to the editor or write to letters@theatlantic.com.