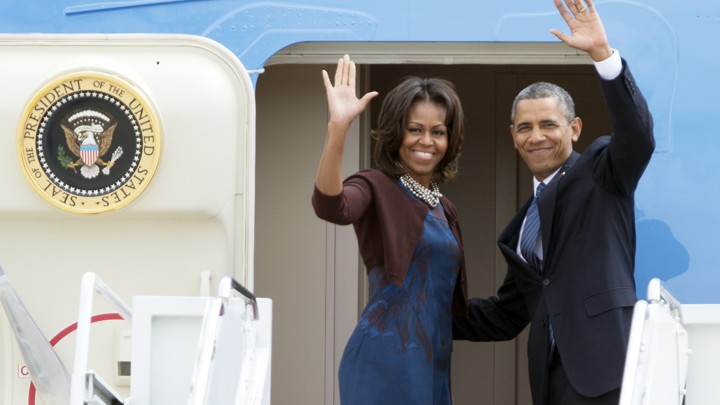 Barack Obama won a second term but no man­date. Thanks in part to his own small-bore and bru­tish cam­paign, vic­tory guar­an­tees the pres­id­ent noth­ing more than the head­ache of build­ing con­sensus in a grid­locked cap­it­al on be­half of a po­lar­ized pub­lic.
If the pres­id­ent be­gins his second term un­der any de­lu­sion that voters rub­ber-stamped his agenda on Tues­day night, he is doomed to fail.
Man­dates are rarely won on elec­tion night. They are earned after In­aug­ur­a­tion Day by lead­ers who spend their polit­ic­al cap­it­al wisely, tak­ing ad­vant­age of events without over­reach­ing. Obama is cap­able — as evid­enced by his first-term suc­cess with health care re­form. But man­date-build­ing re­quires hu­mil­ity, a trait not eas­ily as­so­ci­ated with him.
"The man­date is a myth," said John Alt­man, as­so­ci­ate pro­fess­or of polit­ic­al sci­ence at York Col­lege of Pennsylvania. "But even if there was such a thing as a man­date, this clearly isn't an elec­tion that would pro­duce one."
He poin­ted to Obama's small mar­gin of vic­tory and the fact that U.S. voters are di­vided deeply by race, gender, spir­itu­al­ity, and party af­fil­i­ation. You can't claim to be car­ry­ing out the will of the people when the pop­u­lous has little shared will.
An­drew Jack­son was the first pres­id­ent to claim that the de­sires of the pub­lic over­rode Con­gress's con­sti­tu­tion­al prerog­at­ives. Vir­tu­ally every pres­id­ent since Jack­son has claimed the mantle, even while lack­ing two in­gredi­ents of an elect­or­al man­date: a land­slide vic­tory and a spe­cif­ic agenda. More of­ten than not, Con­gress trims the pres­id­ent's sails, leav­ing both the lead­er and his fol­low­ers dis­ap­poin­ted.
"Pres­id­en­tial claims to a man­date, such as Pres­id­ent [George] W. Bush in 2004, are mis­lead­ing to the pub­lic and the of­fice­hold­er," said An­thony Brunello, pro­fess­or of polit­ic­al sci­ence at Eckerd Col­lege in St. Peters­burg, Fla.
Some man­dates are eas­ily and ob­vi­ously claimed, usu­ally as an ex­ten­sion of calam­it­ous events. Ex­amples: Frank­lin Roosevelt dur­ing the Great De­pres­sion, Lyn­don John­son after the as­sas­sin­a­tion of John Kennedy, and Bush after 9/11.
Claim­ing a man­date can lead a pres­id­ent down policy paths that are reck­less and un­pop­u­lar. Bill Clin­ton over­reached on health care re­form in his first term and Bush mis­read his reelec­tion as a man­date for So­cial Se­cur­ity re­form in 2005.
In a cap­it­al as po­lar­ized as Wash­ing­ton, even a land­slide vic­tory and de­tailed cam­paign plat­form wouldn't se­cure a pres­id­ent's agenda.
"Man­dates may not ex­ist in Wash­ing­ton any­more with the hy­per-par­tis­an­ship we now see as­so­ci­ated with every sub­stant­ive or polit­ic­al move on the Hill," said Steve McMa­hon, strategist for Howard Dean's 2004 pres­id­en­tial cam­paign.
"I'm gen­er­ally an op­tim­ist, but it's hard to see how there is a man­date for any­thing oth­er than more of what we've seen the last sev­er­al years," said GOP strategist Mark McKin­non, who helped elect and reelect the young­er Pres­id­ent Bush. "There's not a good scen­ario for how this turns out."
Obama hurt his cause by run­ning a hard-edged and neg­at­ive cam­paign against Re­pub­lic­an Mitt Rom­ney, hop­ing to con­vince re­ces­sion-weary voters that his rival was un­worthy of the job. He gave lip ser­vice to an agenda, pub­lish­ing scaled-back and re­pack­aged ideas from his first term in a 20-page pamph­let. Obama's mes­sage was of­ten mi­crotar­geted to Demo­crat­ic co­ali­tions rather than the broad elect­or­ate.
"To me, as a sup­port­er, it's been frus­trat­ing be­cause Pres­id­ent Obama had the op­por­tun­ity … to make his cam­paign about something lar­ger," said Demo­crat­ic con­sult­ant Carter Eskew, top strategist to Al Gore in 2000.
Mike Mc­Curry, former press sec­ret­ary for Pres­id­ent Clin­ton, said it's easy to cri­ti­cize can­did­ates for duck­ing solu­tions to the na­tion's in­tract­able prob­lems such as budget de­fi­cits, so­cial mo­bil­ity, and poverty. But the fact is, any cam­paign pro­pos­al would have been grounds for at­tack.
"My guess is, neither can­did­ate offered spe­cif­ics be­cause it would have been polit­ic­ally un­ten­able," Mc­Curry said.
McKin­non said voters would have re­war­ded Obama or Rom­ney for ad­dress­ing hard truths. "People are hungry for an agenda, hungry for spe­cif­ics, hungry for any­thing that looks like a solu­tion," McKin­non said. "I think there are ways to do it without paint­ing your­self in a corner."
So the vagar­ies of his­tory, his times, and his mes­sage will deny Obama an auto­mat­ic man­date. He has to earn it. The ques­tion is, how?
First, lower ex­pect­a­tions. Obama prom­ised voters he would change the nature of polit­ics in his first term. He failed. Rather than prom­ise the un­at­tain­able, Obama needs to ac­know­ledge the dif­fi­culty of tasks ahead, start­ing with curb­ing the na­tion's debt.
Eskew sug­ges­ted Obama say something like: "Look, I learned some things in Wash­ing­ton. I thought we could all get along, and I learned that is not the case. I want to do some things for the coun­try but I can't do them un­less people sup­port me — not just in the elec­tion, but also after."
Second, com­mit to the hard and hum­bling work of gov­ern­ing. Schmooze with law­makers, hold reg­u­lar news con­fer­ences, travel the coun­try to tout le­gis­la­tion, and dig in­to the de­tails of bills and reg­u­la­tions.
Kar­en Hughes, an ad­viser to George W. Bush, had this ad­vice for the fam­ously aloof pres­id­ent: "Get in the limo and go to the Hill and get seen work­ing with law­makers. People will ap­pre­ci­ate the ef­fort."
Third, reach out to Re­pub­lic­ans with con­crete and sym­bol­ic ges­tures. "There is go­ing to have to be com­prom­ise to get any­thing done, es­pe­cially with big is­sues," said Mike Feld­man, an­oth­er strategist on Gore's 2000 cam­paign.
Obama may need to bring in new ad­visors who can work with Re­pub­lic­ans. "He needs to ig­nore the blind par­tis­ans from either party, and find the uniters," said Demo­crat­ic con­sult­ant Chris Kofinis. "If he does he will be­come an even more his­tor­ic pres­id­ent."
Mc­Curry noted that soon after his 1980 vic­tory, Ron­ald Re­agan re­appoin­ted pop­u­lar former Demo­crat­ic Sen. Mike Mans­field as am­bas­sad­or to Ja­pan. "Ges­tures like that build good­will," Mc­Curry said. "It's in­creas­ingly how you claim the man­date and how you move for­ward that de­term­ines the out­come."
Alt­man, the polit­ic­al sci­ence pro­fess­or from Pennsylvania, struggled for the ad­vice he would give no-man­date Obama. "You are go­ing to gov­ern un­suc­cess­fully. You are go­ing to fail," he said with a chuckle.
But then he hedged. Maybe ex­pect­a­tions would be lower for Obama than they were in 2009, Alt­man said. "They ex­pect him to just hang on for an­oth­er four years and hope­fully not screw it up too much," Alt­man said. "They will take 2016 as a new day."
That's not much of a man­date. But it is a second chance.
Donna Brazile, cam­paign man­ager for Gore in 2000, said Obama should set his sights ac­cord­ingly. "The only man­date that will be clear as day­light," she said, "is to break the grid­lock of Wash­ing­ton."
We want to hear what you think about this article. Submit a letter to the editor or write to letters@theatlantic.com.