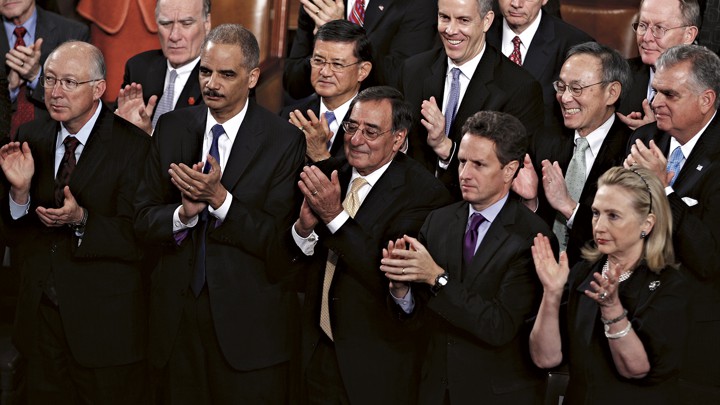 It may not be as dramatic as a new president coming in to install a totally new regime in Washington. But even as President Obama celebrates his solid reelection victory, he faces a major transition challenge in reshaping his administration for a second term under less-than-ideal circumstances.
The newly triumphant-but-exhausted president is back at the White House and turning his attention to the daunting policy logjams that demand almost immediate action, not to mention the certainty that he will have to make changes in his White House senior staff and Cabinet. His choices will be closely watched for signals about whether Obama will pursue a more cooperative approach with Republicans in Congress — or a more confrontational one — than he did in his first term.
Surprisingly, on some levels, his transition task may be harder than Mitt Romney's would have been in building an administration from scratch.
(RELATED: 6 Cabinet Seats Likely to Change)
Romney would have enjoyed the honeymoon that is accorded to all newly elected presidents — even to George W. Bush after his highly contested, Supreme Court-abetted victory in 2000. But Obama's 2-point popular-vote margin was so close, and his opponents so entrenched and impassioned, that the mood in Washington during the transition is likely to be more a function of relief that the long, costly, and bitter 2012 campaign is over than a reflection of a national coming together, like the honeymoon after his win in 2008. Republicans in Congress — their control of the House confirmed — show no signs yet that they are ready to work more closely with Obama on his legislative agenda or to smooth the path for his appointees.
Thanks to a 2010 law that encouraged challengers to start their transition work months before the election, Romney's "Readiness Project" had been organizing since June, sifting through résumés, crafting an agenda, setting priorities, and studying policy options. With former Health and Human Services Secretary Mike Leavitt in charge, Romney had in place what Republicans believed was the best transition operation ever assembled by a candidate.
More than a decade of academic studies of past transitions — some of which were haphazard, chaotic, or poorly organized — made Romney's operation possible. But few people have researched how reelected presidents have readied their administrations for a second term, even though some of them clearly stumbled and fumbled away opportunities. Now, Obama confronts that job.
Since the summer, with much less public attention than Romney's Readiness Project received, the president's most senior aides in Washington have been meeting privately, talking with current officeholders, and looking ahead to second-term strategy and appointments. Leading the effort have been Chief of Staff Jacob Lew, Deputy Chief of Staff Pete Rouse, Deputy Chief of Staff Alyssa Mastromonaco, and Personnel Director Nancy D. Hogan. Consumed with the campaign, the president has not been very involved. But now, these aides are ready to report what they have learned. That includes feedback on which appointees, both on staff and in the Cabinet, want to stay. But the aides will also identify those whom they believe Obama should let go, regardless of whether they want to stay.
(RELATED: Who Might Serve in the Next Administration?)
Big changes are almost certain after a first term of remarkable Cabinet stability. Only two departments — Defense and Commerce — have seen changes at the top. The holdover department heads include some who are exhausted, some who are less adept politically than had been hoped, and some who have uneasy relations with Congress. "Even with Obama reelected, he has a big personnel challenge," said James Pfiffner, professor of public policy at George Mason University and an expert on transitions. "The biggest challenge in the beginning is always personnel." Obama "just has so many vacancies to deal with," Pfiffner said, noting that a president has about 1,000 appointments subject to Senate consent, another 800 noncareer Senior Executive Service positions, and about 1,400 Schedule C (political) appointments. "And, especially at the end of a first term, there are a lot of vacancies."
No one — not even senior members of the White House staff — can know what direction the president will take until he turns his attention to the next term in the coming days. Longtime Republican and former White House Chief of Staff Andrew Card knows what it's like. He participated in transitions in all possible ways: with Ronald Reagan succeeding vanquished Democratic incumbent Jimmy Carter in 1980; with George H.W. Bush's "friendly takeover" from fellow Republican Reagan in 1988; with Bush's loss to Democrat Bill Clinton in 1992; with George W. Bush's succession after Clinton in 2000; and, finally, with Bush's handover to Obama in 2008.
Recalling Bush's reelection in 2004, Card said, "I met with the president at Camp David just a couple of days after the election, and he told me he wanted to make a lot of changes in the second term." Bush understood that the best way to signal to the country that his second term would be different would be to personify his new approach with new appointees, Card told National Journal. "The personification makes a big difference in calling attention to the policy." The best example of that was Bush's decision to fire Donald Rumsfeld as Defense secretary after the 2006 elections.
Just like the Obama team today, Card had quietly used the 2004 campaign season to get a handle on the wishes of Bush's Cabinet and senior team. But it was not so much to find out what they wanted, he said, as to inform them that the president might want them to go. "It was really to give the president all the flexibility, so I asked them, "˜What are your plans?' But it was not meant necessarily for reassurance. It was meant to soften the blow if a change comes."
Card recalls some "awkward" and uncomfortable conversations. "These are frequently hard, because changes are not necessarily a criticism of the person who is leaving. It is more the need to demonstrate to the American people that things are different. It is not good versus bad. It is old versus new." He said his toughest call was to tell Colin Powell that Bush wanted Condoleezza Rice as his new secretary of State. "I had to make the phone call saying, "˜Thank you very much,' and I think he wanted me to say, "˜Welcome back,' instead."
Card said that Obama's team almost certainly will be making some of these calls. "I don't think there's ever been a president that moved from one term to a second term who said the status quo is great. Almost every election is about change. But it doesn't always mean it is about dramatic change. Part of it is, you want a kind of reinvigoration; you want new energy."
Clay Johnson, who headed Bush's transition team in 2000, has some regrets about how the president handled the move into his second term in 2004. "It is a great opportunity to reset an administration, to reenergize, to re-prioritize," Johnson told NJ. "Looking back, we probably didn't take full advantage of that opportunity." Offering advice to Obama, he said, "You can tackle new issue priorities. You can move some people around. You freshen everybody's batteries. It is an opportunity for President Obama to reset and not just keep on keeping on with the same bunch of folks doing the same old thing."
Johnson also underscored the opportunity for what he called "message-sending." Lew will most likely press Obama to identify the areas where he wants change. "What do we want to do differently tone-wise, cooperation-wise, communication-wise?" Johnson said. "Where you want to make the greatest amount of change might be where you want the greatest change in personnel."
That brings us, of course, to policy or priority changes in a second term, certain to be just as crucial to the president's success over the next four years as his personnel choices. And, with the lame-duck session of Congress looming, Obama has little time to work out a new approach before tackling sequestration, the fiscal cliff, and the Bush tax cuts. In planning for that, Lew and Rouse have been joined by Domestic Policy Chairwoman Cecilia Muñoz and Legislative Affairs Director Rob Nabors over recent weeks. That group has also discussed second-term legislative priorities and the groundwork for the president's fiscal 2014 budget proposal. But a key element of those plans did not come into focus until this week when the White House knew the partisan makeup of the Congress that will receive Obama's budget and agenda.
"Dealing with the urgent financial matters that are on his plate — that's the first thing he and the Congress have to do," said Martha Joynt Kumar of Towson University, who has studied presidential transitions. "How he deals with it will depend in large measure on who is there in Congress." Now, the president knows that the election essentially maintained the status quo on Capitol Hill, and that will factor in to his personnel decisions, arguing, for example, for keeping Lew in his post because he works well with the GOP leaders in the House.
On policy and personnel alike, everybody is looking to Obama to move beyond his election-night remarks in Chicago and signal what kind of second-term relationship he wants with Congress. Clarity from the top could be the most important element, argues Terry Sullivan, a professor of political science at the University of North Carolina and an expert on presidential transitions. "You have to be clear-eyed about what you are going to pursue in a second term, and sometimes that takes some fresh faces," he said, adding a warning that every president in his second term begins to think of his historical legacy, a mind-set that leads to overreach, as when President George W. Bush tried to privatize Social Security.
An overreach of a different kind marked what all the experts consider the worst presidential transition from a first to a second term. Richard Nixon, fresh from his landslide victory in 1972, shocked his Cabinet officers and top aides by demanding that they all submit resignations. "It was demoralizing," Sullivan said. "Disastrous," agreed Kumar. With his experience in multiple administrations, Card offered a more nuanced judgment that he said best captures Obama's challenge today: "Demands are bad for morale," he said. "Expectations may not be. I don't think anybody who is serving should be overly confident about the status quo."
If Obama rises to the challenge, he could set the stage for action that could prove to be as dramatic as anything a President-elect Romney might have pursued.
This article appeared in print as "Out With the Old."
We want to hear what you think about this article. Submit a letter to the editor or write to letters@theatlantic.com.