Obama Makes Historic Trip to Myanmar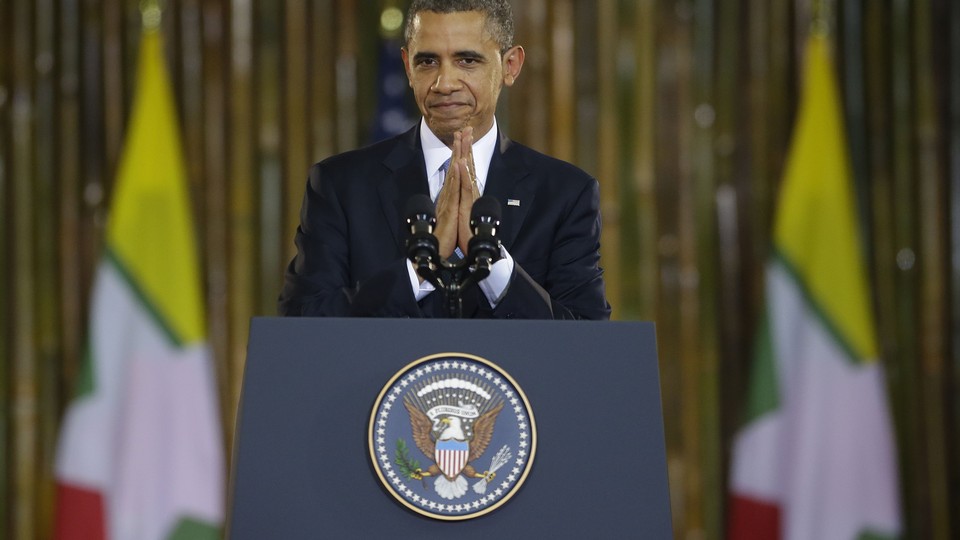 President Obama concluded his historic trip to Myanmar on Monday, offering to extend a "hand in friendship" to the new democracy.
Obama's trip represents the first time that a sitting U.S. president has visited Myanmar, formerly known as Burma. Speaking at the University of Yangon, which was the site of democratic protests in the 1980s, Obama praised the country and the new relationship between the two nations.
"Above all, I came here because of America's belief in human dignity," Obama said, according to the White House. "Over the last several decades, our two countries became strangers. But today, I can tell you that we always remained hopeful about the people of this country, about you."
After years of dictatorial rule, Myanmar has begun a transition toward a democratic system. The country is also one of several nations in Southeast Asia that borders China, a critical player in the world economy, and the U.S.'s chief economic rival in the region.
In his address, the president outline different elements of democracy he hopes to see in the country moving forward, including freedom of expression and reconciliation between sparring groups. Obama also clearly defined the U.S. as a "Pacific nation," a theme he has attempted to capitalize on during his trip. He also made clear at a press conference on Sunday that his trip was not an endorsement of the government.
"This is not an endorsement of the Burmese government," he said, according to The New York Times. "This is an acknowledgment that there is a process under way inside that country that even a year and a half, two years ago, nobody foresaw."
He said in his Monday address that the country still has a long way to go, and warned the new government to continue toward democracy, or U.S. support will dissipate.
"So as extraordinary and difficult and challenging and sometimes frustrating as this journey may seem, in the end, you, the citizens of this country, are the ones who must define what freedom means," he said.
The president also met with human rights activist Aung San Suu Kyi, a Nobel Peace Prize recipient who spent 20 years under house arrest until her release in 2010. In her remarks after the meeting, she offered hope for the country's future.
"The most difficult time in any transition is when we think that success is in sight," she said, according to the Associated Press. "Then we have to be very careful that we're not lured by the mirage of success."
Following his trip to Myanmar, the president traveled to Cambodia -- another first visit by a sitting U.S. president -- though that trip was primarily to attend the East Asia Summit and has not been marked with the same optimism. Human rights groups have widespread concerns over the country's prime minister, who has led since the 1980s.
The meeting with Cambodian Prime Minister Hun Sen, Obama senior national security adviser Ben Rhodes said, was "tense" as Obama focused on human rights issues, according to White House pool reports. Obama called on Cambodia to implement free and fair elections, while freeing political prisoners.
The president started his Asian trip in Thailand, and returns to Washington on Wednesday.