Obama Lashes Out at GOP for Attacks on Susan Rice
The president says criticism of the U.N. ambassador over her role in the aftermath of the Libya incident is "outrageous."
The president says criticism of the U.N. ambassador over her role in the aftermath of the Libya incident is "outrageous."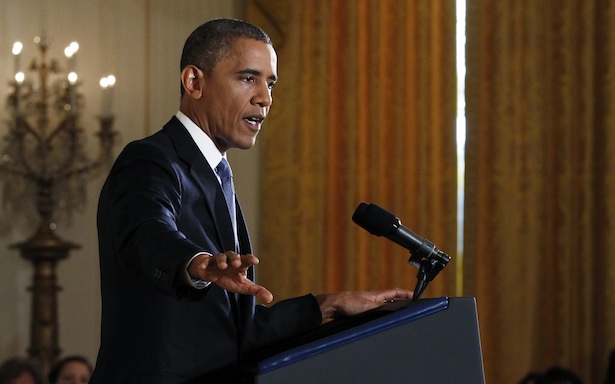 Update 3:12 p.m.: In his first formal meeting with reporters since his re-election last week, President Obama today lashed out at Republican senators who criticized his ambassador to the United Nations, Susan Rice, over statements she made after the attacks on the U.S. embassy in Libya.
Visibly angry, Obama took issue with comments made earlier in the day by Senators John McCain and Lindsey Graham. "If Senator McCain and Senator Graham want to go after somebody, they should go after me," Obama told the White House reporters. "I'm happy to have that discussion with them. But for them to go after the U.N. ambassador? Who had nothing to do with Benghazi? To besmirch her reputation? It's outrageous.
"When they go after the U.N. ambassador, apparently because they think she's an easy target, then they've got a problem with me."
The remarks by McCain and Graham came Wednesday morning at The Washington Ideas Forum, a conference hosted by The Atlantic. In an interview with Jonathan Karl of ABC News, the senators were asked whether they would oppose Rice's appointment as secretary of state, a nomination that has been rumored in recent days.
Asked if he felt she was effectively disqualified from the position, McCain replied, "Yes."
Asked if he would even support a filibuster to block her, he replied, "Yes."
Conversations with leading newsmakers.
A special report
McCain had earlier Wednesday laid out his opposition to Rice on CBS's This Morning, saying that her remarks in the days after the September 11 attack on the U.S. State Department mission in Benghazi, Libya -- which McCain called a consulate -- showed that she was "not qualified" to lead America's diplomatic efforts. At the Ideas Forum, McCain indicted her for "not being very bright, because it was obvious that this was not a 'flash mob' and there was additional information by the time she went on every news show ... in America." Rice, following the lead of the intelligence community, had gone on a number of Sunday talk shows and attributed the attack to outrage over an anti-Islam video produced by a Christian Egyptian expatriate based in California.
Sen. Graham said Rice's handling of the situation revealed she was "a political choice with a political narrative." He said he doubted her credibility. "I don't trust her," Graham said.
An hour later, in a separate session at the Forum, Senator Michael Bennet, a Democrat from Colorado, pushed back at the notion that Rice is not qualified. "If the president nominates her, then she should have a hearing, and a debate in the Senate," he said. (Standard disclosure: Bennet is the brother of Atlantic editor-in-chief James Bennet.)
The GOP senators' remarks were part of the daylong push for a joint investigation by senators into what Graham called the "Benghazi debacle." Graham and McCain were joined by New Hampshire Sen. Kelley Ayotte at a Capitol Hill news conference on Benghazi immediately following the Ideas Forum where they continued to press their case. "There is no credibility amongst most of us concerning the administration and the numerous controversies and contradictions that have been involved in their handling of this issue," McCain said. "It is essential for the Congress to conduct its own independent assessment."
"This thing is a centipede ... another shoe is going to drop within days, I guarantee you," McCain said of the Beghazi story at the Ideas Forum.
"The American people deserve answers," he said, comparing the deaths of four Americans in the attack in Libya to Watergate and the Iran-Contra affair. "What did the president know? When did he know it? And what did he do about it?" Those were some of the key questions on which "the American people deserve answers," McCain said.
More video at Fora.tv