Obama Did Better in States Where Lots of People Search for 'Top Chef'
Meanwhile, Mitt Romney did better in states with high rates of Google searches for "founding fathers."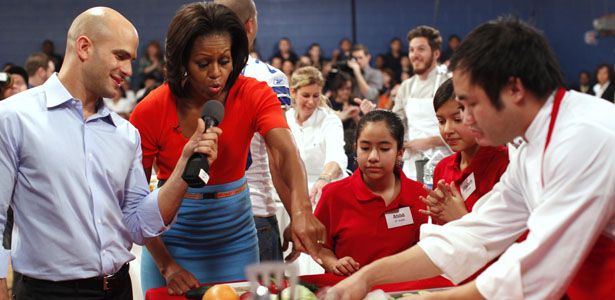 Kevin Lamarque/Reuters
If you don't collect data on individual web users, and don't have a big-data budget, you can still learn a lot about how people voted in this presidential election from some creative probing of the Google Correlate database. The power of the tool is in uploading your own data (such as vote tallies) to see what searches mirror your target pattern.
For example, the map on the left is what I uploaded: the ratio of Obama votes to Romney votes in each state, as of Thursday morning. The map on the right, from Google, is the relative frequency of searches for "top chef." The two patterns have a correlation of .88 on a scale of 0 to 1.

Maybe it's a complete coincidence that Michelle Obama appeared on a Top Chef program earlier this year. But out of the 100 Google searches that most closely match that vote pattern, eight are about Top Chef. Others on the list include "spliff" (never heard of it), "mos def" and various reggae artists, as well as "itchiness."
On the other hand, searches for "founding fathers quotes" follow the Romney/Obama ratio just as closely: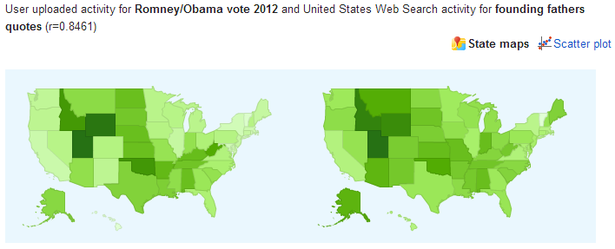 Most of the searches on the top-100 Romney-state list (all correlated about the same .84) are about simple, non-obscene pleasures, such as "clean jokes," "clean funny jokes," "funny commercials"; and home-schooling materials, like "flag clipart," "in god we still trust," and "printable scrapbook." After the kids are in bed, though, someone is Googling "hot cheerleader," before quickly toggling back over to "sean hannity" when he hears mom coming up the stairs.