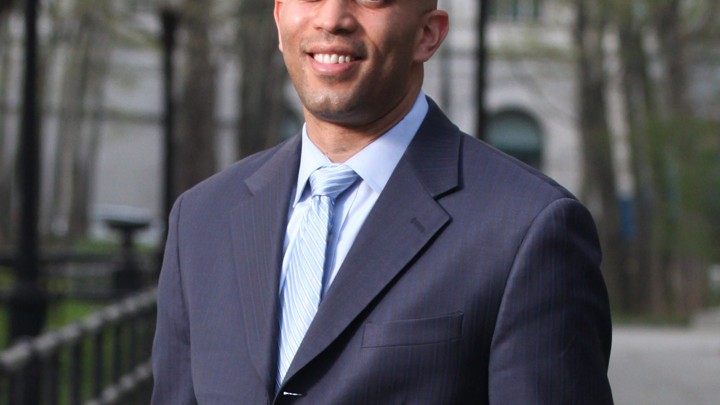 Democrat Hakeem Jeffries was easily elected in New York's 8th District, which includes the Bedford-Stuyvesant neighborhood of Brooklyn. Jeffries will replace Rep. Edolphus Towns, D-N.Y., who is retiring after 30 years in Congress. Jeffries is already garnering plenty of hype as a rising star in the Democratic Party. During his five-plus years in the New York State Assembly, observers said he was as equally comfortable in front of a Brooklyn church congregation as he was with New York academics. He's sometimes called "Brooklyn's Barack."
Jeffries was born and raised in Brooklyn and enrolled at Binghamton University in 1989. He pledged Kappa Alpha Psi, the predominantly African-American fraternity, where he received the nickname "Kool Ha," for his measured and reverential speech. "I'd like to think "¦ I've been able to remain relatively calm, cool and collected under pressure," Jeffries said in an interview. Each year, Jeffries made the short trip to Syracuse University with his fraternity brothers to perform at Greek Freak, a step show with mostly African-American dance groups.
In his senior year of college, a widely covered event in the news solidified his commitment to public service: the not-guilty verdict for the two police officers accused in the beating of Los Angeles motorist Rodney King.
Jeffries went to Georgetown University for a master's degree in public policy and later earned a law degree from New York University. After a one-year clerkship with a federal judge, he went to work for Paul, Weiss, Rifkind, Wharton & Garrison, a law firm known for launching the careers of prominent Democratic New York politicians, such as ex-Gov. Eliot Spitzer and former Rep. Elizabeth Holtzman, D-N.Y.
Jeffries endured what he called "knock-down" but not "knockout" blows when he twice challenged multi-decade Democratic Assemblyman Roger Green in 2000 and 2002. Perched outside Brooklyn subway stops every morning, Jeffries spent both campaigns calmly insisting that Green was well-intentioned but complacent and unresponsive. Despite losing each race, Jeffries earned a reputation as a strong campaigner and efficient fundraiser. When Green stepped down in 2006 to run for Congress, Jeffries won the seat easily.
Within a few years, Jeffries appeared in City and State magazine's list of 40 rising political stars under 40. In the Legislature, he worked on affordable-housing issues and got a bill signed into law forcing the elimination of the New York City Police Department's "stop-and-frisk" database, which contained personal information from each police stop since 2004. He also took on political reforms and introduced legislation to establish an independent redistricting process.
In the 8th District Democratic primary, Jeffries faced another African-American politician in New York City Councilman Charles Barron. A former Black Panther, Barron had a history of making inflammatory statements against Israel; as a result, nationwide campaign donations flooded into Jeffries's coffers. Many national politicians backed Jeffries, and the Democratic Congressional Campaign Committee even tapped him as a fundraising "all-star," asking him to help campaign around the country in other important congressional races. Jeffries won the primary race in a rout, garnering 71 percent to just 28 percent for Barron. In this heavily African-American district, Jeffries's victory in the general election was all but assured.
Cory Bennett
Born: Aug. 4, 1970
Family: Married, Kennisandra Jeffries; two children
Religion: Baptist
Education: Binghamton University, B.A., 1992; Georgetown University, M.P.P., 1994; New York University, J.D., 1997
Career: Assistant general counsel, CBS Broadcasting, 2006; counsel, Viacom, 2004-05; practicing lawyer, 1999-2003
Elected Office: New York Assembly, 2006-present
We want to hear what you think about this article. Submit a letter to the editor or write to letters@theatlantic.com.