No Love for the 'Atlas Shrugged' Guy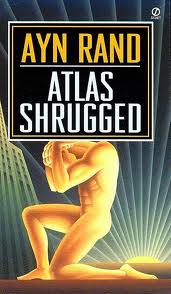 Many readers are getting in the spirit of the one-time-only day-long Festival of Election Eve Updates. Here are responses to the previous item, in which the founder of one small high-tech business predicted a crackup for the Republican party if Romney loses -- and another person, who says he also runs a high-tech business, said he would shut his enterprise and lay off all his workers if the election went the wrong way.
Representative sample of incoming messages, most from people who identified themselves also as being in business. Number one:

...If your correspondent who is about to shut down his company if Obama wins is serious, could you have him contact me? I'd be glad to satisfy the market demand he's leaving behind. The economy won't miss him at all and will go creating jobs just fine.

Of course, I'll understand if this is too snarky to post. I'm just fed up with the "job creators" who think they create the market rather than demand creating their opportunities. As a business owner myself, I understand that without a functioning society, my business skills amount to zilch.

And:

To your correspondant who wrote: "I will tell you what happens, I close my business of 10 years and lay off my employees."

I doubt I was the only person who read this and thought "Don't let the door hit you on the ass." You'll have no problem finding someone to flat-out trade places with you. Perhaps one (or all!) of your employees. Just sign the business over to THEM and let 'em deal with "all the headaches." You'll love living on temp work and medicaid, boss, it's a fricking party down here.

Unless of course this is a parody, in which case: bravo, sir or madam! Well played. You managed to make American business owners look like cackling be-monocled stereotypes. If this is the face of the Republican party, I want nothing to do with it ever again.

And:

"I will tell you what happens, I close my business of 10 years and lay off my employees. I am done. Thats what happens."..

I love hearing this tired trope from the right and is a great example of the echo chamber in action. Talk radio and fox news hammers this point repeatedly to the point that people actually believe that money is the sole motivation for entrepreneurs. If you're in business for the sole purpose of making money and you feel the past four years has been terrible then maybe you should close shop, you're in it for the wrong reason anyway.

I believe most people are in business because they want to create something and believe in what they're doing. Part of creating anything requires working within the regulatory framework, it's part of doing business. That's part of the challenge, if you're not up for it, or the financial returns aren't enough for you then I say good riddance, we're better off without you and your company.

My gut tells me that this guy enjoys having power and "stuff" more than he cares about his ideals.

And:

Here's a response to "Atlas will shrug" email:

Two words: spoiled child.

So glad I don't work for this person. This is nothing more than a "conservative" rant and offers nothing. Seriously, he's going to close his business if Obama wins and let go all of his employees? Talk about a lack of professional ethics, much less business sense.

And:

Your "Atlas Shrugger" is full of it.  He (you just know it's a he) is bluffing.  And if he's not, then the niche in the economy his business takes up will be filled in by someone else, and he'll be poorer, and that will be it. 

What these Randians don't get is that their jobs do not provide money for employees like mannah from heaven.  His customers will become someone else's customers, his employees someone else's employees, and no one will miss him

And finally a question, from someone in DC who wonders:

whether your Atlas Shrugs correspondent really is what he says he is (i.e., the head of a high tech company)? That whole letter read more like an exercise in Randian mythology than a genuine self-portrait. But maybe I'm giving the human race too much credit...

The answer is: I don't know. I'll send this post back to the original Atlas Shrugged reader and see what he says.
For the record, I didn't hear from anyone defending the Atlas perspective -- nor anyone complaining about the other post.
More grist in the mill ahead.