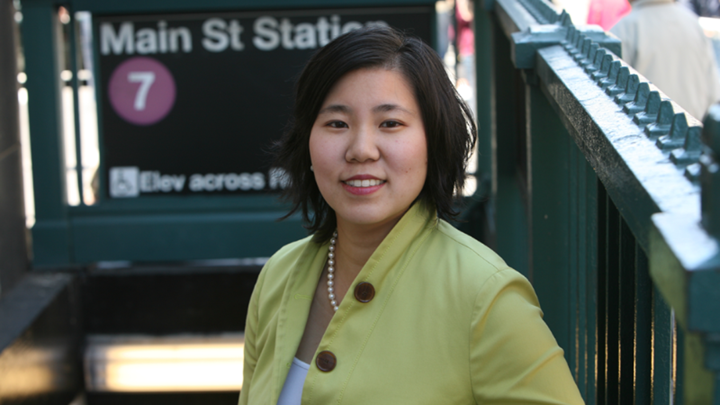 The daughter of Taiwanese immigrants, Grace Meng will become the first Asian-American woman to represent New York City in Congress. The New York Times already has described her as a potential political star. But she downplays the accolades: "It's nice to be a woman, and it's nice to be an Asian," she said in an interview. "But what's more important is what I can bring back to my district."
Meng was born and raised in Queens, a borough known for its ethnically diverse population. Her parents left Taiwan for the United States in the 1970s, and Meng says they instilled in her a strong desire to help other people. After debating whether to become a teacher or a lawyer, she ultimately chose law, studying history at the University of Michigan and later attending Yeshiva University's Cardozo School of Law. She also worked as a volunteer on several New York political campaigns in 2006, including Hillary Rodham Clinton's senatorial bid.
Her father, Jimmy Meng, served one term in the state Assembly in 2005 and 2006. She originally sought to take his place, but residency issues forced her out of the race. Two years later, however, she won a bid against Assemblywoman Ellen Young. During her years in Albany, Meng sponsored bills on a variety of issues, including a measure signed into law in 2009 to eliminate the word "Oriental" — a term critics say is outdated and offensive — from state documents referring to people of Asian descent. She also worked to protect senior citizens from increasing property taxes as well as on other constituent-service issues.
Meng jumped into the race to succeed retiring 14-term Democratic Rep. Gary Ackerman and won the liberal firebrand's endorsement. Ackerman told The Times that her self-effacing style was a factor in his decision. "It's not a matter of being the most flashy or the most self-promoting, but the ability to bring people together," he said. "She's a very likable person, and she's a very quick study. She understands that it's not about her, but the people who sent her there."
Meng also received the backing of the Queens Democratic Party and several Asian-American advocacy groups as well as the powerful New York Hotel and Motel Trades Council. She easily won the Democratic primary in June against three other contenders with 51 percent of the vote.
She had little trouble in the general election against Republican Daniel J. Halloran, a member of the New York City Council. Nevertheless, it was a raucous race in which Halloran accused her of running a campaign of "ethnocentrism" based on her roots, referred to her as a "Chinese national" and falsely accused her of having dual citizenship. Meng also persevered through an embarrassing episode in July, when her father was arrested and accused of soliciting $80,000 from a friend facing criminal charges,claiming he could bribe prosecutors.
Meng's priorities in Congress include bolstering Queens' transportation infrastructure and expanding the borough's potential for tourism. She also calls for ensuring that the wealthy pay a higher percentage of their income in taxes and hiring more police and firefighters to improve public safety.
Doris Nhan
We want to hear what you think about this article. Submit a letter to the editor or write to letters@theatlantic.com.