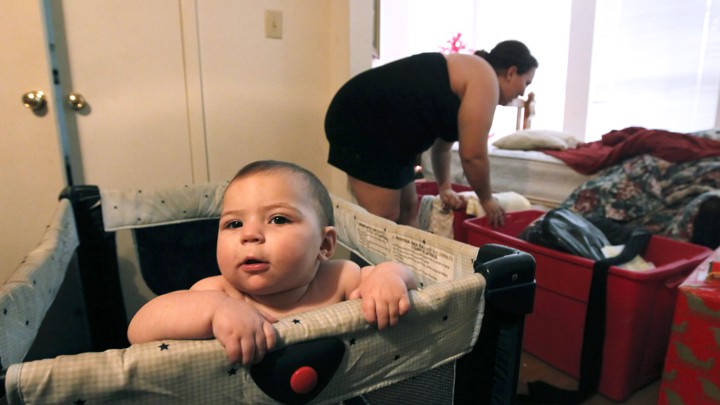 The number of poor people in the U.S. in 2011 increased by about 1 million to nearly 50 million, a record-high number that impacts Hispanics and blacks the most, a new U.S. census report shows.
Under the new formula that calculates medical and work-related expenses, the poverty rate increased significantly for all racial groups except African-Americans. The poverty rate for blacks declined to 25.7 percent, from 27.8 percent, but remains higher than any other group. It's unclear what contributed to the differential for this group.
New algorithms used in The Research Supplemental Poverty Measure: 2011 take into account government benefits designed to assist low-income families, such as food stamps and income-tax credits. The formula also calculates other out-of-pocket costs that reduce a person's disposable income, such as child care, health care, insurance premiums, and transportation.
The new measures boosted the poverty rate to 16.1 percent, 1 percentage point higher than the official poverty rate reported by the government in September.
"There are several important differences between the official and supplemental poverty measures," explained Kathleen Short, the report's author. "For instance, the supplemental measure uses new poverty thresholds that represent a dollar amount spent on a basic set of goods adjusted to reflect geographic differences in housing costs. The official poverty thresholds are the same no matter where you live." The official poverty measure includes pretax earnings, according to the report.
 Among the poverty rates in the report:
Hispanics: 28 percent, up from 25.4 percent.
Blacks: 25.7, down from 27.8 percent.
Asian: 16.9 percent, up from 12.3 percent.
Whites: 11 percent, up from 9.9 percent.
All children under the age of 18: 18 percent, down from 22.3 percent.
California and Washington, D.C.: More than 23 percent poverty rate, up from 16 percent and 19 percent, respectively.
Timothy Smeeding, a University of Wisconsin economist, told the Associated Press that the slow economic recovery and job growth mainly in lower-paid sectors contributed to the poverty rate in 2011. "As a whole, the safety net is holding many people up, while California is struggling more because it's relatively harder there to qualify for food stamps and other benefits."
The alternative formula increased the poverty rate in 2011 for immigrants, full-time and part-time workers, according to an AP story.
The census's supplemental poverty report allows policymakers to analyze the impact of certain tax policies and benefit programs on various groups. By including out-of-pocket medical costs, for instance, the poverty rate of those who are 65 and older increased by 3.4 percentage points. 
We want to hear what you think about this article. Submit a letter to the editor or write to letters@theatlantic.com.