Nate Silver Wasn't the Only One to Nail the Election—nor Was He the First
A comprehensive look at the election predictions of America's top pundits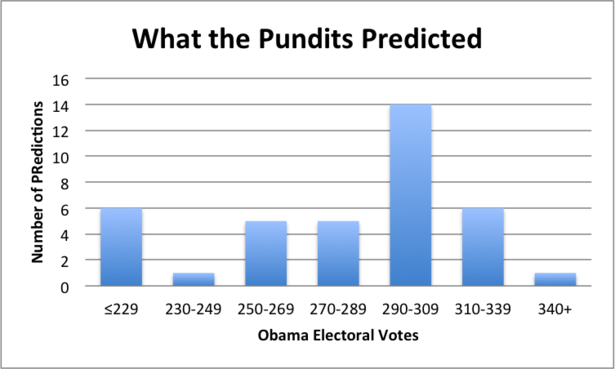 So who got it right?
We gathered a selection of some of the smarter political prognosticators and grouped them according to how many electoral votes they believed Barack Obama would receive. Here's a full table: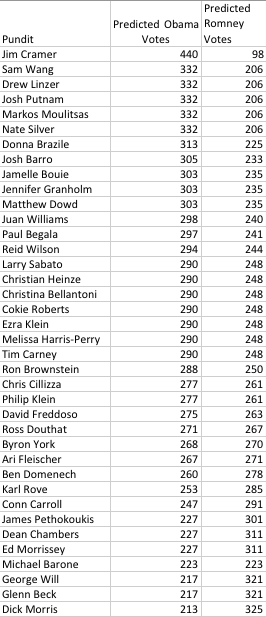 Let's assume that Florida continues in the same direction and Obama wins it. With those 29 electoral votes, he'll have 332 total. You're going to hear a lot of praise for Nate Silver in the next couple of days; in fact, you're probably already sick of hearing about him. Silver correctly predicted 332 based on states, although his model ended up at 313 votes. But he's not the only one who really nailed it. See also: Sam Wang, Drew Linzer, Josh Putnam, and Markos Moulitsas. In fact, Linzer's model has been hovering in that range for months!
Interestingly, the greatest number of predictions came just under that -- guessing Obama would take between 290 and 309 votes.
Now, who got it most wrong? One person who was too aggressive Jim Cramer, for one, although his 440 was always unhinged (see how bizarre his map would have looked here). And on the pro-Romney end of the range, a lot of people were way off. Dick Morris and Michael Barone have already come out to eat crow. There are plenty of others who ought to own up their misjudgments, too -- and figure out where their predictions went off the rails.
Rebecca Greenfield has an exhaustive look at the predictions over at The Atlantic Wire.