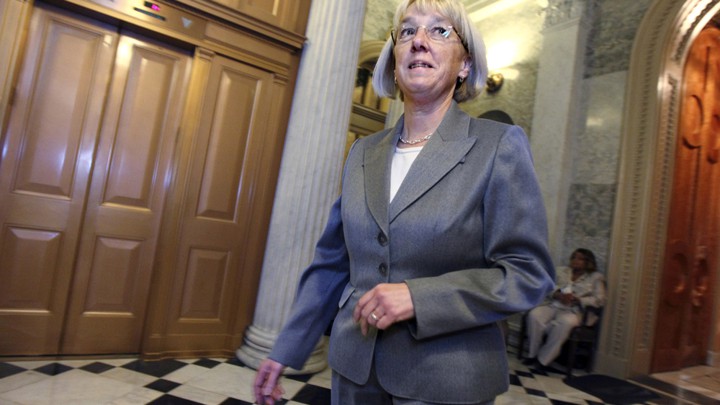 Sen. Patty Murray, D-Wash., suggested on Sunday that Congress should allow the Bush tax cuts to expire at the end of the year if Republicans are unwilling to budge on raising tax rates for the wealthiest Americans as part of a deal to resolve the pending budget cuts and tax increases known as the "fiscal cliff."
If the tax cuts expire, she said, Congress can reduce tax rates for those families making under $250,000 in the new year.
"If the Republicans will not agree with that, we will reach a point at the end of this year where all the tax cuts expire and we'll start over next year," she said on ABC's This Week. "And whatever we do will be a tax cut for whatever package we put together. That may be the way to get past this."
Later, she added, "Look, no one wants to go off the fiscal cliff. But a fair deal is absolutely critical here."
Murray, who is poised to become the Senate Budget Committee chairwoman and previously co-chaired of the so-called Supercommittee on deficit reduction, has taken a lead role in advocating a hard line on the fiscal cliff. This summer, she gave a widely noted speech suggesting Democrats would allow tax rates to rise and sequestration to occur if Republicans did not budge
Her position aims to bolster Obama's negotiating position. It also reflects a widely held Democratic view that a deal will become far easier to reach once tax rates are set to rise, which will create the perception extending the rates for households that earn less than $250,000 will be a tax cut, rather than an increase.
Republicans this week agreed to look into finding new revenues to tackle the increasing deficits, but disagree with Democrats on raising rates to generate that revenue. Murray said raising the tax rates for the wealthiest Americans was imperative to a deal.
"If our Republican counterparts can step forward with that revenue piece, we will be able to find a solution," she said. "We can't accept an unfair deal that piles on the middle class and tell them they have to support it. We have to make sure that the wealthiest Americans pay their fair share."
Sen. Saxby Chambliss, R-Ga., maintained the Republican hardline on increasing tax rates, saying it wasn't smart policy during a sluggish economy.
"We need to consider the fact that the folks who he's talking about raising taxes on are the job creators, the small business community," he said on ABC. "So there's a right way to do this and there's a wrong way to do it."
See all NJ's Sunday show coverage | Get Sunday show coverage in your inbox
---
Dan Friedman contributed. contributed to this article
We want to hear what you think about this article. Submit a letter to the editor or write to letters@theatlantic.com.