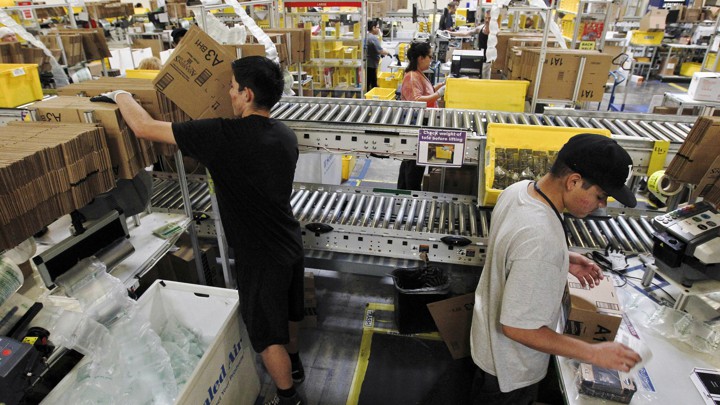 With the purchasing power of communities of color on the rise, this demographic bloc likely played a significant role in helping sales on Cyber Monday surpass $1 billion.
Although companies monitoring holiday online sales don't track shoppers by race or ethnicity, analysis of long-term online buying trends and purchasing power of minorities offers a glimpse into the economic force these groups have on the real and digital marketplace.
The Selig Center for Economic Growth at the University of Georgia's Terry College of Business estimated that the economic influence of minorities has grown in the past 20 years. The purchasing power of blacks, Native Americans, and Asian-Americans is 15.3 percent of the nation's total, up from 12.5 percent a decade earlier. Their combined purchasing power is estimated at $1.9 trillion.
At $1.2 trillion, U.S. Hispanic purchasing power today is larger than the economies of all but 13 countries, said Jeff Humphreys, director of the Selig Center and author of the annual report "Multicultural Economy."
At the same time, online-purchasing trends for all racial groups have increased in the past five years, according to a survey by The Media Audit, a Texas-based firm that tracks demographic online, radio, television, and online marketing trends. Surveys were conducted by phone five days a week, during the day and evening, selecting households using a random digit-dialing sample.
Between 2007 and 2012, blacks, Asians, and Latinos made the largest gains in online shopping. For example, blacks who purchased 12 or more items online in a single year increased to 18.7 percent in 2012, a 52 percent increase since 2007.  During the same time, Hispanics who bought the same amount of goods via the Web accounted for 18.5 percent, a 45 percent increase.
Asian-American online shopping trends for the past five years have exceeded those of whites, signaling this groups' early adoption of technology and social-media trends. About 81.8 percent of Asian-Americans have made an online purchase between 2011 and 2012, compared with 71.7 percent of whites, according to The Media Audit.
Humphreys, who has followed racial and ethnic buying power since 1990, cited three reasons for their rise in minorities' purchasing power: population growth; an uptick in educational attainment; and new business enterprises and entrpreneurship within the demographic.  
"Hispanics, Asians-Americans, and African-Americans start businesses at a faster rate than the overall population," Humphreys told The Next America. "Although the education levels of African-Americans are below those of other groups, they are rising. Going to college gives you a diploma that gives you higher-pay occupations."
At nearly 43 million people, African-Americans represent nearly 14 percent of the U.S. population. Blacks, who are the largest minority racial group, have a wide range of household incomes that average $47,290, according to "African-American Consumers: Still Vital, Still Growing," a 2012 Nielsen report. About 35 percent earn at least $50,000.
Unlike Hispanic and Asian markets, still largely clustered geographically in the West and border states, the widely dispersed African-American market makes an attractive consumer segment.
While Hispanics have become a coveted consumer base for many large companies for their sheer population size, spending habits, and rising purchasing power, the growing number of Asian-American consumers has remained largely untapped. No longer concentrated in traditional Asian-American hubs in California, this highly diverse group is growing in states like Nevada and Maryland.
"They are now many states with large Asian consumer markets," Humphreys said.
Asian-Americans are more likely than any other racial group to live in mixed-raced neighborhoods and to marry across racial lines, according to a Pew Research Center study. As a group, this demographic also has higher levels of education. More than half of Asians ages 25 and older had a four-year degree, compared with 30 percent of whites.
A recent Nielsen study revealed that Asian-American buying power is expected to reach $1 trillion in just five years.
"Because the Asian consumer market is so diverse in national ancestries, languages, and cultures, businesses that target subgroups will find rewarding niche markets," Humphreys wrote.
In much the same way marketers "woke up" to the Hispanic market after the release of the 2000 census, many companies are "playing catch up in the Asian market," Humphreys noted. "They notice these trends are enduring and they are developing the message and products."
We want to hear what you think about this article. Submit a letter to the editor or write to letters@theatlantic.com.