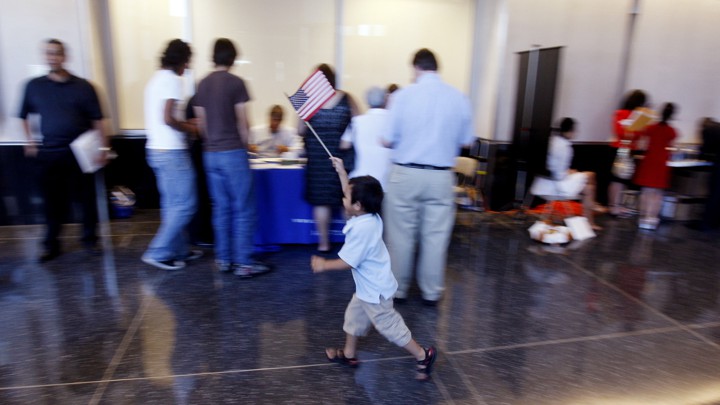 A new crop of Latinos is slowly maturing in cities and communities across the nation. And it's just a matter of time before they turn 18, register to vote, and reshape the political landscape.
Young Latinos who are U.S. citizens and are under the age of 18 make up at least 20 percent of all children in about dozen states, according to an analysis by the Tomás Rivera Policy Institute, a nonprofit think tank on Latino issues housed at the University of Southern California.
Not surprisingly, the three states with the highest shares of Latinos aging into the electorate are the Mexican border states of Texas (48 percent), California (51 percent), and New Mexico (58 percent), the report show.
The emergence of these future voters is the result of past immigration trends and high birthrates among Latinos. "The growth of the Latino electorate is not subject to any future decisions on immigration policy," wrote Roberto Suro, director of the institute. "Rather, steady increases in the number of Latino-eligible voters will occur as Latinos already born in the United States as citizens with full voting rights reach voting age."
Beyond the three biggest border states, their growing share in the battleground states of Colorado, Florida, Nevada, North Carolina, and Virginia has the potential to impact the electoral map of tomorrow. Colorado's proportion of oncoming Latino voters is 30 percent, and Florida's is 27 percent.
Every month in the U.S., 50,000 Latinos turn 18, making the Hispanic vote an even more essential to the future of the political parties. Bill Frey, a Brookings Institute demographer, notes that the GOP's failure to attract Latinos and other minorities cost Mitt Romney states that were once heavily Republican, such as Nevada, Colorado, Virginia, and Florida. Hence, Romney lost the presidential race.
The share of the minority vote, at 28 percent nationwide, will continue to grow as Hispanic millennials reach voting age, Frey said. Currently 4 million more Hispanics are eligible to vote than were in 2008, according to the Pew Hispanic Center. Latinos now comprise 11 percent of the nation's eligible voters, up from 8.2 percent in 2004 and 9.5  percent in 2008.
Turnout among all young voters was high, at about 50 percent, in both 2008 and 2012, especially in battleground states, according to a study by the Center for Information and Research on Civic Learning and Engagement. In toss-up states, youth voter turnout was higher, at 58 percent. (The national turnout rate this year, at 57.5 percent, was lower than in both 2004 and 2008, according to an Associated Press report citing the Center for the Study of the American Electorate; census data shows that registered youth ages 18 to 20 voted at a 58.2 percent rate, compared with 41 percent for people 21 to 24, and 56.6 percent for those 25 to 34.)
Highly heterogeneous, young eligible Latino voters are growing up bilingual, bicultural, and in a country that's more diverse. While it's unclear just how many of these children who are aging into the electorate have immigrant parents — legal or illegal — a recent Latino Decisions poll show that 60 percent of all Latino voters know someone who is undocumented. Most Latinos are two generations removed from the immigrant experience, according to Latino Decisions. Immigration, while not the No. 1 issue, continues to be personal and important to them.
The report suggests that these new Latino voters are poised to make historic political strides in states with traditionally high Hispanic populations such as Florida, California, Texas, and Arizona, but also in places with new patterns of Latino migration, such as New Jersey, Utah, and North Carolina.
Latino politics will unquestionably center on immigration in the Deep South. Georgia, a state with an influx of Latinos in the past decade, is currently debating two immigration laws crafted to make it harder for undocumented immigrants to live, work, and attend public colleges and universities.
Georgia will have a large share of Southern-born-and-raised Latinos for years to come. Currently about 296,000 (12 percent) of Georgia's nearly 2.4 million children are Hispanic.
This article is part of our Next America: Communities project, which is supported by a grant from Emerson Collective.
We want to hear what you think about this article. Submit a letter to the editor or write to letters@theatlantic.com.