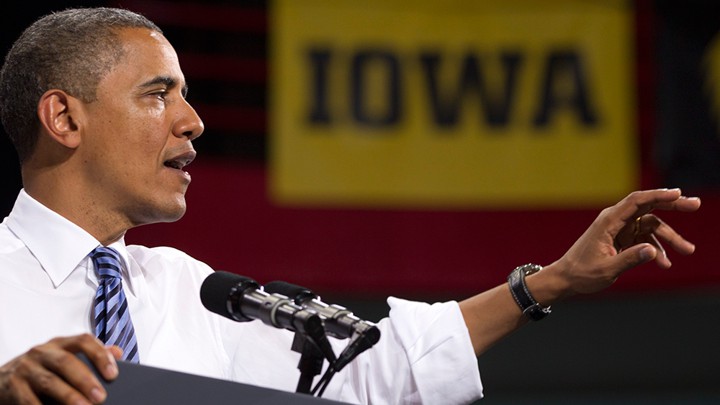 New Hampshire and Iowa voters are used to White House hopefuls and money deluging their states in high summer, six months before their leadoff primary-season contests and 18 months before the actual election. This time, the courtship never stopped.
Both states are now critical battlegrounds, with VIPs swarming across them in the final week of the presidential campaign. Bill Clinton made three stops in Iowa on Wednesday, Vice President Joe Biden scheduled a two-city Iowa tour for Thursday, GOP vice presidential nominee Paul Ryan heads to Iowa on Friday, President Obama goes to Iowa on Saturday and New Hampshire on Sunday, and Romney will be in New Hampshire on Saturday and Monday. If not for Hurricane Sandy, New Hampshire would have seen Biden, Romney, Michelle Obama, and Ann Romney earlier this week.
That focus might seem misplaced for two states that, between them, possess only a puny 10 electoral votes (equal to Wisconsin's total and nowhere close to Florida's 29). But in a race where neither campaign has any margin for error, even those meager totals could determine which contender reaches 270 electoral votes.
"It has been a wild ride, for me personally, and for Iowa voters," said Matt Strawn, who was chairman of the Iowa GOP during the Republican primary this year. "Everybody is ready for a break. Iowans haven't had a break from politics in darn near two years."
Swing-state status is not entirely new to the two states. George W. Bush's unexpected victory in New Hampshire in 2000 secured his ascendancy to the presidency. Bush narrowly lost Iowa in 2000, but four years later claimed it as his own en route to winning reelection. Both have voted for the Democratic presidential nominee in four of the last five presidential elections, but neither is by any means a liberal bastion.
But in-state observers describe this year's campaign as more intense, unremitting and — ultimately — draining than any they have seen in recent elections. What amounted to skirmishes in 2000 and 2004 has escalated into a full-scale war of attrition this time around.
"It has seemed like it has been nonstop from eight or 10 months before primary to now," said Steve Duprey, a Republican National Committee member in the Granite State. "It is exhausting, and regardless of if you're a Republican or a Democrat, everyone will be delighted when it's over."
He added, "I'm looking forward to TV ads that feature car dealers. It will be a refreshing change."
Duprey's diminished appetite for TV spots is understandable. The two presidential campaigns had combined to spend more than $22 million in television advertising in New Hampshire and more than $37 million in Iowa as of the end of last week, according to Hotline's ad-spending tracker. And that doesn't include advertising by their well-funded independent allies.
Those figures are dwarfed by spending in a state like Ohio, which has seen more than $100 million worth of ads from the campaigns. But Iowa and New Hampshire are much smaller and cheaper than Ohio — meaning the ads there are no less ubiquitous.
And it's not just TV or radio advertising that's consuming voters. J. Ann Selzer, an independent pollster in Iowa, says she's receiving a robocall every night. "If they're coming after me, they're coming after everybody," she said. "My mailbox is flooded with mail."
In a sign of how much the script has flipped in Iowa, Romney has visited it more frequently during the general election than he did during the GOP primary. The former governor committed to competing in the caucuses by the end, but for months, his campaign was convinced that the state's evangelical-Republican base made it hostile to his overtures. He has shown no such hesitation taking on Obama in Iowa.
Romney spent nine days campaigning in-state for the caucuses, according to Craig Robinson, the former political director of the state GOP. "This time, he's in the state three times in the span of six days?" Robinson said. "I mean, holy smokes."
The former GOP official said he's never seen a general-election campaign like this one. "We're not inundated by just TV ads and the occasional visit," Robinson said. "We're now being inundated by multiple visits during the week by the same candidate, and all the coverage that follows that."
Polls depict a neck-and-neck race in both states. Obama appears to hold a slight edge in both, but Romney was endorsed in recent days by all four major Iowa newspapers. "Obama has had money and machine going in the state since October," Strawn said. "The question is whether that's a substitute for momentum and message, which seems to be on the side of Mitt Romney right now."
For the president, wins in Iowa and New Hampshire would offset a loss in Wisconsin. Or, if paired with a victory in a state like Virginia, they could overcome a defeat in Ohio.
If so, the centers of the political universe will look awfully familiar.
We want to hear what you think about this article. Submit a letter to the editor or write to letters@theatlantic.com.