"We've watched the animated GIF grow up ... while GIFs used to be made by leet haxors [elite hackers] in the days of Usenet, they're now made by employees of The New York Times and The Atlantic, reported on by Forbes and The Wall Street Journal," Mike Rugnetta explains in his latest installment of the PBS Idea Channel. Guilty as charged. The little video loops have become a part of the political conversation, for better or for worse. 
Can GIFs really convey meaningful information? Rugnetta traces the role of video in politics back to the first televised debate in 1960. "The focus of debates has shifted from politics to performance: gaffes, reactions, one liners," the PBS host notes. GIFs, he argues, are perfect for analyzing these moments in their visual context. Ok, a GIF of Romney's "jazz hands" might not reveal any particular insights into this high stakes race, but GIFs of pivotal debate moments can add another dimension to a debate recap. 
At best, GIFs are a useful tool and at worst, well, they're just a lot of fun. For more political GIFs, see this amazing archive or this collection of the "25 Funniest Presidential Election GIFs So Far," which includes this little gem: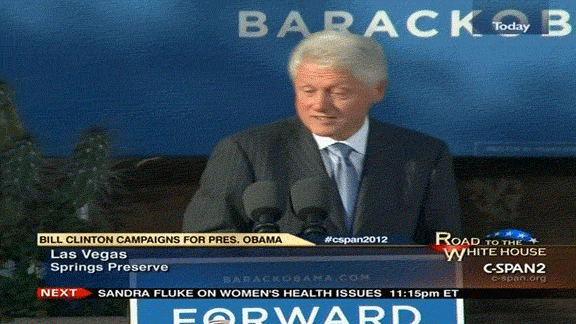 This video was produced by Kornhaber Brown for PBS. For more from the PBS Idea Channel, check out the YouTube channel.