Gabrielle Giffords to Confront Attacker at Sentencing Hearing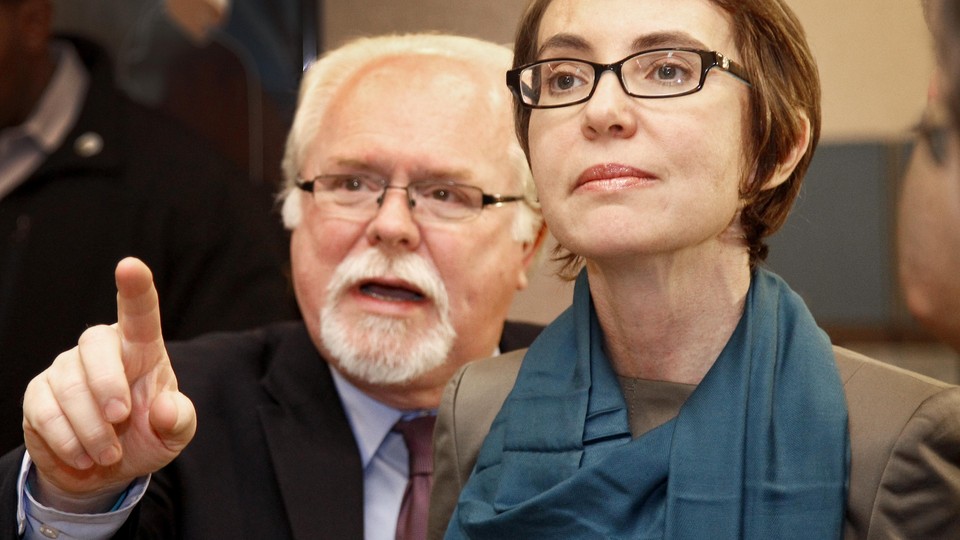 Former Rep. Gabrielle Giffords, D-Ariz., will confront the man who shot her nearly two years ago at his sentencing hearing on Thursday, Politico reports.
Jared Lee Loughner, 24, pleaded guilty to killing six people and shooting 13 others in Tucson, Ariz., in January of 2011 during a Giffords political event. Giffords has gone through intensive rehabilitation therapy following a bullet wound to the head.
On Thursday, Loughner will find out his sentence and face some of the victims of his rampage for the first time since the massacre. The victims will have an opportunity to speak at the hearing.
After the shooting, Loughner was diagnosed with schizophrenia. But following treatment, a judge found him able to stand trial. Loughner pleaded guilty three months ago to 19 federal changes in a plea deal, and he is guaranteed to serve the rest of his life in prison without parole.
Rep. Ron Barber, a former Giffords staffer who was shot through the cheek and thigh at the event, now holds Giffords' seat and plans on speaking at the hearing on Thursday.
Giffords will be joined at the trial by her husband, Mark Kelly.
In September, Giffords read the Pledge of Allegiance to an emotional response at the Democratic National Convention in Charlotte, N.C. She stepped down from her seat in January of this year to concentrate on her recovery.