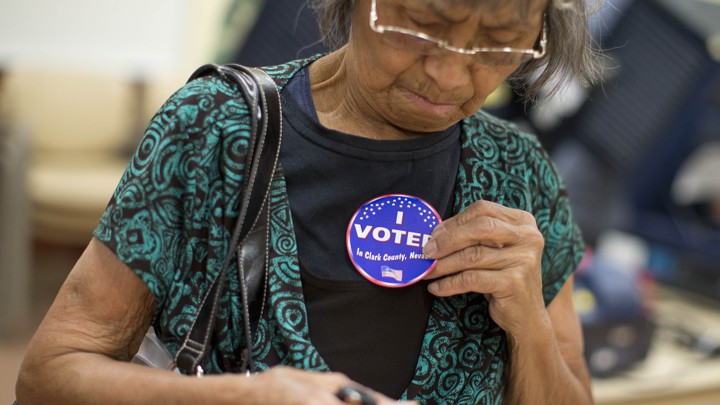 President Obama made a stop last month in Kern County — California's agricultural heartland — to establish the Cesar E. Chavez National Monument near the site where the iconic farmworker-rights leader is buried. He greeted a crowd in impeccable Spanish. "Good morning. Buenos Días. Si, se puede," he said, elevating the crescendo of applause. "Yes, it can be done."
California's 55 electoral votes will go to Obama, so his pilgrimage to the center of the state's working poor likely demonstrated the president's desire to generate additional support from swing-state Latinos — those living in Colorado, Florida, and Nevada. Obama is sending a signal that he's got their backs.
"The Obama campaign has been deliberate in courting the Latino vote," said Ruy Teixeira, senior fellow and demographer at the Century Foundation and the Center for American Progress. "They see the rise of the importance of the group. The Dream Act was not just a coincidence."
The Next America has compiled a list of 15 counties where Latino, black, and Asian-Americans are expected to play a significant role in these presidential and congressional elections and in those to come. The counties were selected after consulting with nonpartisan civic organizations, including the National Association of Latino Elected and Appointed Officials Educational Fund and advocacy groups that track minority-voting trends. The list, not intended to be comprehensive, aims to give a glimpse into the growing political minority-voting bloc, a sector that's only projected to increase every year for decades to come.
In the end, much of Tuesday's election results will depend on which electorate shows up, Teixeira wrote in The New Republic. While exit polls showed the minority share of the 2008 vote was 26 percent, "it will rise again," he told The Next America.
(RELATED STORY: Presidency May Rest on Minority Turnout, Uptick Over 2008)
Teixeira predicts that the overall share may increase to 28 percent, following indisputable demographic changes. Every presidential cycle, he says, the share of minority voters has increased by about 3 percentage points. Some may argue that the 2008 election was an anomaly, a historic campaign that brought blacks, Hispanics, Asian-Americans, and millennials to the polls in droves. Teixeira disagrees. "The increase from 2000 to 2004 was actually larger: 3.5 points," he wrote in The New Republic.
"Neither do I believe voter turnout was so high in 2008 that there's nowhere to go but down," he told The Next America on Monday.
But looking at select counties can provide a granular examination in communities where demographic change is influencing elections and telling exemplary stories about the coming America.
Clark County in Nevada, for instance, is now a poster child for demographers. Democrats have won every share of the presidential votes for the past three elections, but the victory margin widened by two digits in 2008. And that jump is not surprising. Huge jumps in population around Las Vegas and Reno have made the state more urban. Clark County, according to the political blog FiveThirtyEight, is home to a large portion of Nevada's population. In Clark, Latinos account for 15 percent of the population and Asian-Americans 33 percent. Non-Hispanic whites comprise just under 42 percent, meaning it's one of the foreshadowing counties where minorities are no longer minorities. "The core of Las Vegas is the most left-leaning and predominantly Hispanic and African-American," according to the blog.
California's Kern County, on the other hand, tells a slightly different story. The agriculturally rich communities around Delano and Bakersfield demonstrate that while the county voted Republican for the last three elections, the grand margin of victory is narrowing. But it may take some time for Democrats to make significant inroads, given the density of migrant workers. Half of the county's 851,710 residents may be Hispanic, census figures show, but that population does not translate to a heavy voter turnout.
Many hold jobs that make it hard to get to the polls or they are not eligible to vote due to their immigration status, but those not yet of voting age will become a force in years to come.
Other counties across the continent, in the South, are also instructive demographically. Both Wake County, N.C., and Gwinnett County, Ga., have increasing shares of Latinos and Asians, giving rise to culturally diverse suburbs in metro areas. A 2011 Brookings Institution report shows that in these melting-pot suburbs, minorities represent about a third of residents. In the 2000s, the suburbs of Houston, Las Vegas, San Francisco, and the District of Columbia became minority-majority melting pots as well.
Other communities examined, with supporting data below, are urban centers such as Detroit. Many of America's major metro areas have long had black and white residents living side-by-side, but that mix is changing with waves of new Latino immigrants. The newcomers flock to the cities for jobs in restaurants and other service industries that cater to urban professionals. In Wayne County, for instance, about 40 percent of the greater Motor City population is black and nearly half are white. Latinos only account for 5.4 percent, but that percentage is sure to grow.
Next America Bellwether Counties
Suburban Melting Pot COUNTY VICTORY MARGIN Gwinnett Co., Ga. Nonwhite population: 56.7%
Black: 25%
Hispanic: 20.5%
Asian: 10.8% (Hover over state to see demographics) 2008 Votes 2008 % Points 29721 10   WINNER: McCain 2012 Votes 2012 % Points 27684 9% WINNER: Romney   Queens Co., N.Y. Nonwhite population: 72.4%
Black: 21%
Hispanic: 27.8%
Asian: 24.3% (Hover over state to see demographics) 2008 Votes 2008 % Points 325471 51   WINNER: Obama 2012 Votes 2012 % Points 296777 59 WINNER: Obama   Pima Co., Ariz. Nonwhite population: 45.2%
Black: 4%
Hispanic: 35.1%
Asian: 2.8% (Hover over state to see demographics) 2008 Votes 2008 % Points 23848 6   WINNER: Obama 2012 Votes 2012 % Points 12728 4 WINNER: Obama   Wake Co., N.C. Nonwhite population: 38%
Black: 21.3%
Hispanic: 10%
Asian: 5.6% (Hover over state to see demographics) 2008 Votes 2008 % Points 63890 14   WINNER: Obama 2012 Votes 2012 % Points 54006 10 WINNER: Obama   Fairfax Co., Va. Nonwhite population: 45.9%
Black: 9.9%
Hispanic: 15.8%
Asian: 18% (Hover over state to see demographics) 2008 Votes 2008 % Points 109365 21   WINNER: Obama 2012 Votes 2012 % Points 87049 20 WINNER: Obama   Racially Diverse Counties COUNTY VICTORY MARGIN Harris Co., Texas (Houston) Nonwhite population: 67.3%
Black: 19.3%
Hispanic: 41.4%
Asian: 6.4% (Hover over state to see demographics) 2008 Votes 2008 % Points 19099 2   WINNER: Obama 2012 Votes 2012 % Points 585 0 WINNER: Obama   San Francisco Co., Calif. Nonwhite population: 58.2%
Black: 6.3%
Hispanic: 15.4%
Asian: 33.9% (Hover over state to see demographics) 2008 Votes 2008 % Points 269928 70   WINNER: Obama 2012 Votes 2012 % Points 179933 69 WINNER: Obama   Clark Co., Nev. (Las Vegas) Nonwhite population: 52.6%
Black: 11%
Hispanic: 29.7%
Asian: 9.1% (Hover over state to see demographics) 2008 Votes 2008 % Points 123687 19   WINNER: Obama 2012 Votes 2012 % Points 99755 14 WINNER: Obama   King Co., Wash. (Seattle) Nonwhite population: 35.6%
Black: 6.5%
Hispanic: 9.2%
Asian: 15% (Hover over state to see demographics) 2008 Votes 2008 % Points 388514 42   WINNER: Obama 2012 Votes 2012 % Points --- --- WINNER: ---   Denver, Colo. Nonwhite population: 47.4%
Black: 10.3%
Hispanic: 31.8%
Asian: 3.6% (Hover over state to see demographics) 2008 Votes 2008 % Points 142314 52   WINNER: Obama 2012 Votes 2012 % Points 140004 49 WINNER: Obama   Historically High Black Populations COUNTY VICTORY MARGIN Philadelphia, Pa. Nonwhite population: 63%
Black: 44.3%
Hispanic: 12.6%
Asian: 6.6% (Hover over state to see demographics) 2008 Votes 2008 % Points 478759 67   WINNER: Obama 2012 Votes 2012 % Points --- --- WINNER: ---   Wayne Co., Mich. (Detroit) Nonwhite population: 50.2%
Black: 40.3%
Hispanic: 5.4%
Asian: 2.7% (Hover over state to see demographics) 2008 Votes 2008 % Points 440503 49.4   WINNER: Obama 2012 Votes 2012 % Points --- --- WINNER: ---   St. Louis City, Mo. Nonwhite population: 31.2%
Black: 23.4%
Hispanic: 2.6%
Asian: 3.6% (Hover over state to see demographics) 2008 Votes 2008 % Points 108263 68   WINNER: Obama 2012 Votes 2012 % Points 94037 67 WINNER: Obama   Milwaukee Co., Colo. Nonwhite population: 45.8%
Black: 27%
Hispanic: 13.6%
Asian: 3.6% (Hover over state to see demographics) 2008 Votes 2008 % Points 170374 36   WINNER: Obama 2012 Votes 2012 % Points --- --- WINNER: ---   Cuyahoga Co., Ohio (Cleveland) Nonwhite population: 38.7%
Black: 30%
Hispanic: 4.9%
Asian: 2.7% (Hover over state to see demographics) 2008 Votes 2008 % Points 258340 39   WINNER: Obama 2012 Votes 2012 % Points 236478 39 WINNER: Obama   High Hispanic Populations COUNTY VICTORY MARGIN Miami-Dade Co., Fla. Nonwhite population: 84%
Black: 19.3%
Hispanic: 64.4%
Asian: 1.7% (Hover over state to see demographics) 2008 Votes 2008 % Points 139280 16   WINNER: Obama 2012 Votes 2012 % Points 203947 24 WINNER: Obama   El Paso, Texas Nonwhite population: 86.3%
Black: 3.6%
Hispanic: 81.4%
Asian: 1.2% (Hover over state to see demographics) 2008 Votes 2008 % Points 60238 32.4   WINNER: Obama 2012 Votes 2012 % Points 55756 33 WINNER: Obama   Hudson, N.J. Nonwhite population: 69.1%
Black: 15.1%
Hispanic: 42.4%
Asian: 14.2% (Hover over state to see demographics) 2008 Votes 2008 % Points 98780 47   WINNER: Obama 2012 Votes 2012 % Points --- --- WINNER: ---   Kern Co., Calif. Nonwhite population: 62.5%
Black: 6.3%
Hispanic: 50%
Asian: 4.7% (Hover over state to see demographics) 2008 Votes 2008 % Points 41336 18   WINNER: McCain 2012 Votes 2012 % Points 35150 21 WINNER: Romney   Pueblo Co., Colo Nonwhite population: 46.1%
Black: 2.4%
Hispanic: 41.6%
Asian: 1% (Hover over state to see demographics) 2008 Votes 2008 % Points 10840 15   WINNER: Obama 2012 Votes 2012 % Points --- --- WINNER: ---  
Next America Bellwether Counties
Suburban Melting Pot
COUNTY VICTORY MARGIN Gwinnett Co., Ga. Nonwhite population: 56.7%
Black: 25%
Hispanic: 20.5%
Asian: 10.8%
(Hover over state to see demographics)
2008 Votes 2008 % Points 29721 10   WINNER: McCain 2012 Votes 2012 % Points 27684 9% WINNER: Romney   Queens Co., N.Y. Nonwhite population: 72.4%
Black: 21%
Hispanic: 27.8%
Asian: 24.3%
(Hover over state to see demographics)
2008 Votes 2008 % Points 325471 51   WINNER: Obama 2012 Votes 2012 % Points 296777 59 WINNER: Obama   Pima Co., Ariz. Nonwhite population: 45.2%
Black: 4%
Hispanic: 35.1%
Asian: 2.8%
(Hover over state to see demographics)
2008 Votes 2008 % Points 23848 6   WINNER: Obama 2012 Votes 2012 % Points 12728 4 WINNER: Obama   Wake Co., N.C. Nonwhite population: 38%
Black: 21.3%
Hispanic: 10%
Asian: 5.6%
(Hover over state to see demographics)
2008 Votes 2008 % Points 63890 14   WINNER: Obama 2012 Votes 2012 % Points 54006 10 WINNER: Obama   Fairfax Co., Va. Nonwhite population: 45.9%
Black: 9.9%
Hispanic: 15.8%
Asian: 18%
(Hover over state to see demographics)
2008 Votes 2008 % Points 109365 21   WINNER: Obama 2012 Votes 2012 % Points 87049 20 WINNER: Obama  
Racially Diverse Counties
COUNTY VICTORY MARGIN Harris Co., Texas (Houston) Nonwhite population: 67.3%
Black: 19.3%
Hispanic: 41.4%
Asian: 6.4%
(Hover over state to see demographics)
2008 Votes 2008 % Points 19099 2   WINNER: Obama 2012 Votes 2012 % Points 585 0 WINNER: Obama   San Francisco Co., Calif. Nonwhite population: 58.2%
Black: 6.3%
Hispanic: 15.4%
Asian: 33.9%
(Hover over state to see demographics)
2008 Votes 2008 % Points 269928 70   WINNER: Obama 2012 Votes 2012 % Points 179933 69 WINNER: Obama   Clark Co., Nev. (Las Vegas) Nonwhite population: 52.6%
Black: 11%
Hispanic: 29.7%
Asian: 9.1%
(Hover over state to see demographics)
2008 Votes 2008 % Points 123687 19   WINNER: Obama 2012 Votes 2012 % Points 99755 14 WINNER: Obama   King Co., Wash. (Seattle) Nonwhite population: 35.6%
Black: 6.5%
Hispanic: 9.2%
Asian: 15%
(Hover over state to see demographics)
2008 Votes 2008 % Points 388514 42   WINNER: Obama 2012 Votes 2012 % Points --- --- WINNER: ---   Denver, Colo. Nonwhite population: 47.4%
Black: 10.3%
Hispanic: 31.8%
Asian: 3.6%
(Hover over state to see demographics)
2008 Votes 2008 % Points 142314 52   WINNER: Obama 2012 Votes 2012 % Points 140004 49 WINNER: Obama  
Historically High Black Populations
COUNTY VICTORY MARGIN Philadelphia, Pa. Nonwhite population: 63%
Black: 44.3%
Hispanic: 12.6%
Asian: 6.6%
(Hover over state to see demographics)
2008 Votes 2008 % Points 478759 67   WINNER: Obama 2012 Votes 2012 % Points --- --- WINNER: ---   Wayne Co., Mich. (Detroit) Nonwhite population: 50.2%
Black: 40.3%
Hispanic: 5.4%
Asian: 2.7%
(Hover over state to see demographics)
2008 Votes 2008 % Points 440503 49.4   WINNER: Obama 2012 Votes 2012 % Points --- --- WINNER: ---   St. Louis City, Mo. Nonwhite population: 31.2%
Black: 23.4%
Hispanic: 2.6%
Asian: 3.6%