Did Polling Only in English Distort Key Polls?
Leading outfits underestimated Obama's support in states like Florida, Colorado, and Nevada -- states with large proportions of Spanish speakers.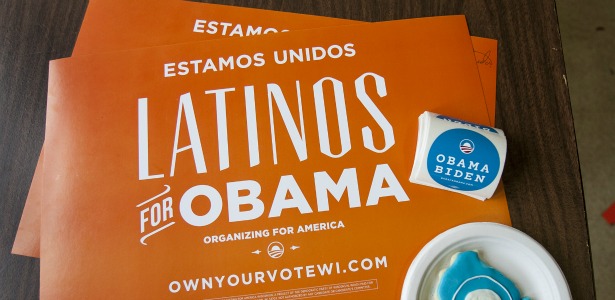 Reuters
In the frenzied final days leading up to the election, Marcos Vilar manned a bilingual command center in central Florida, where he's been working to register voters and make sure they are engaged in Spanish as well as English. About 60 to 70 percent of about 100,000 newly registered Latino voters in Florida are Spanish-dominant, said Vilar, the national outreach director for Mi Familia Vota. Latinos make up 13 percent of Florida's voters, and a growing number of non-Cuban Spanish-speaking voters probably helped President Obama win the Sunshine State in a race that a Quinnipiac University/New York Times/CBS News poll called a virtual tie.
But polls prognosticating Florida's vote had fluctuated curiously -- Nate Silver
had Romney leading slightly in Florida, and Rasmussen pollsters had Romney leading by two points immediately before the election that appears poised to give the state to the president. ="http:>
="http:>
Why the curious fluctuations? The answer could lie in different pollsters' decisions to conduct polling only in English, or to also include a more costly Spanish-language component. Some of the best-known national pollsters -- Gallup, Pew, and Quinnipiac -- routinely poll in Spanish as well as English, while other large polling outfits, such as the Washington Post/ABC News collaboration, poll in Spanish at the state level.
Giant robocallers Rasmussen and PPP do not appear to poll in Spanish, according to other pollsters who have studied their results. Rasmussen and PPP both did not respond to repeated requests for interviews on this topic or to discuss the question of Spanish-language polling. "We have asked [Rasmussen and Public Policy Polling] repeatedly if they polled in Spanish and they have never provided us with any data or an answer that suggests they do," said Matt Barreto of Latino Decisions, a political opinion-research firm. "Everything I have seen about both those polls are they are 100 percent in English."
Forecasters like Nate Silver and RealClearPolitics calibrate their own predictions from pollsters who do and don't poll in Spanish.
All of this could help explain the mixed polling picture in places like Florida, where Obama appears to have overperformed a number of different predictions. Similar gaps between certain polling outfits and the final outcome showed up in Nevada and Colorado, where Spanish-speaking voters were apparently overlooked in pre-election polling. Rasmussen pollsters showed Romney holding a narrow lead in Colorado,, and Obama up by two in Nevada. But Obama swept Nevada by six points, and Colorado by nearly five points.
The classic not-polling-in-Spanish morality tale first surfaced in a big way in Nevada, during Harry Reid's 2010 electoral smack down of Tea Partier Sharron Angle, who had been projected to win by pollsters who hadn't polled in Spanish. Clearly, not polling in Spanish seriously skews prognostications in heavily Latino swing states like Florida, Nevada, and Colorado. But it also creates misleading national polls in tight elections.
"In a very close presidential race [not polling in Spanish] matters a lot," said Simon Jackman, a political science professor at Stanford University, co-director of the Stanford Center for American Democracy, and a principal investigator of the American National Election Studies. "Not polling in Spanish in national polls could underestimate the Obama vote by one-half to one percentage point. This is a small number in an absolute sense, but very significant in a tight election."
It's hard to get a fix on just how many people would prefer to be polled in Spanish in the first place. The Migration Policy Institute crunched 2010 Census numbers, and found that about 25 million people in the United States speak little or no English. Most of those people spoke Spanish. But that doesn't tell the whole story.
Today, Latino voters make up about 10 percent of the electorate. Latino Decisions' Barreto estimates about 15 million registered voters are Latinos, and of these, about 30 percent, or about 4.5 million, are Spanish-dominant. Another 40 percent, or 6 million, are bilingual. Some bilingual voters might prefer speaking Spanish in certain situations -- like when they're talking to pollsters, just to make sure they are trustworthy said Barreto, citing public-opinion research on "race-of-interviewer effects" and "language non-response bias."
Bilingual interviewers must "switch between languages quickly" in order to capture responses from "respondents who are Spanish dominant or feel more comfortable speaking in Spanish, said Mark Lopez, the Pew Hispanic Center's associate director. Such talent is expensive and "makes Pew Hispanic Center surveys more costly," Lopez says.
Polling in Spanish can be an exhausting endeavor. "You've effectively got a second survey running on your system, and it has to be translated and programmed into the survey software along with the English version," said Jackman, the Stanford professor. Some national pollsters might think "it's just not worth the cost for that small segment of the national population that is Spanish speaking."
What's more, some pollsters who poll in Spanish have no idea what they're doing, said Barreto.
It takes skill to carve out an unbiased sample, but a quick way to sniff out a national poll's accuracy is to use Hispanic-only polls as benchmarks, said the Pew Hispanic Center's Lopez. If national polls report results from their Hispanic samples that track closely to Hispanic-only poll results, the national polls probably polled correctly in Spanish. For instance, Pew Hispanic Center, in its September/October poll found that among Hispanics, Obama had a 48-point advantage over Romney. Before it suspended polling due to Superstorm Sandy, Gallup pollsters gave Obama a ballpark 44-point advantage among Hispanics over Romney.
It makes sense to poll in Spanish if you can afford it, to obtain "the most representative possible," said Peter Enns, a Cornell University professor and public-opinion research expert. There's no watchdog group that keeps tabs on who's polling in Spanish these days, or how well they're doing it. And pollsters are notoriously secretive about how they conduct their polls. "If you poll in Spanish, you do it, but you don't necessarily know who else does it," said Peter Brown, the assistant director of the Quinnipiac University Polling Institute.
Latinos as a group have lower voter registration rates, in part because they count a good many children and undocumented immigrants in their ranks. But in the 2008 election, the U.S. Census reported that 84 percent of registered Hispanic voters said they'd voted. This year's turnout was just as good, because an energetic get-out-the-vote movement translated into voter enthusiasm, just activists had predicted.
In Florida, Vilar was less worried "about who wins the election" and more concerned with "changing the perception that Latinos aren't voting."
"And Spanish-speaking voters," he predicted before the election, "will have an impact."