Dick Morris Can't Even Stop Spinning Long Enough to Apologize
You'd expect him to be on his best behavior today. But look at the double standard he slipped into his mea culpa.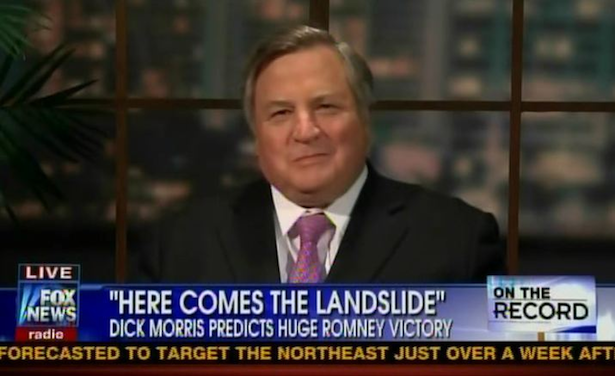 Behold political analyst Dick Morris the day after his
absurd
Election 2012 predictions were discredited by reality. "I've got egg on my face," he
admitted
on his website, and I normally wouldn't revel in another man's chagrin, but the next sentence is so breathtakingly shameless that I can't resist. "I predicted a Romney landslide and, instead, we ended up with an Obama squeaker," he wrote. "The key reason for my bum prediction is that I mistakenly believed that the 2008 surge in black, Latino, and young voter turnout would recede in 2012 to 'normal' levels. Didn't happen."
What's so shameless about that?
In the Dick Morris prediction, Mitt Romney was forecast to win by 325 electoral votes, a result Morris labels a "landslide" in his apology. Right now, with Florida still undecided but leaning toward Obama, it's very possible that Obama will win with 332 electoral votes, which Morris calls "an Obama squeaker."
Credit for catching that spin to Comedy Central, where it was explained more entertainingly than I managed:

Oh, well, there's your problem right there, Dick Morris. You have Backwards Understanding of Things Syndrome. Notice how you think that Romney winning with 325 electoral votes is a "landslide" and Obama winning with 332 electoral votes is a "squeaker"? I'm not moron (which, I'm assuming is what you think the word "expert" means), but that's kind of an easy diagnosis.


I'm sorry, but I'm afraid that this syndrome is chronic. There's really nothing to do but spend the rest of your life working for Fox News.
All zings aside, the point isn't to kick a man while he's down, it's to point out that, even in the moment when you'd expect Morris to be most attuned to questions of rigor, he still traffics in absurd double-standards shaped by his partisan allegiances (more problems with his apology in the wonderfully titled "Dick Morris Falls on His Sword... Misses Sword"). So long as conservative outlets like Fox News publish people like Morris while mainstream media outlets publish people like Nate Silver, the self-imposed information disadvantage that I wrote about earlier today will persist.