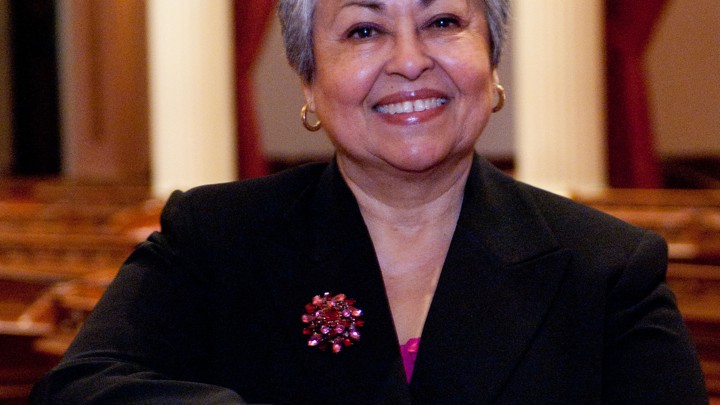 Six years after beating the son of Democratic Rep. Joe Baca for a seat in the California Senate, Democrat Gloria Negrete McLeod edged Baca himself for a seat in the U.S. House. Baca had a history of turmoil with his female House colleagues, who accused him of making sexist remarks, and it was perhaps no surprise he was ultimately unseated by a woman.
Negrete McLeod was born in Los Angeles and later moved to Chino. She attended Chaffey College in Rancho Cucamonga, earning an associate's degree, and later served on the community college's board. She was elected to the state Assembly in 2000, moving six years later to the state Senate after handily beating Joe Baca Jr. in the Democratic primary.
As a chair of the Senate's Public Employment and Retirement Committee, Negrete McLeod was active in efforts to bar county workers from applying their unused sick leave and vacation time to bolster their retirement benefits. She also sponsored legislation giving minor offenders work-release credit for completing education, vocational, and drug-treatment programs, and she pressed for domestic partners to receive the same benefits as married spouses.
Redistricting after the 2010 census presented Baca with a dilemma: He could run for reelection in the 31st District, a swing district that includes about 39 percent of his current territory, or he could run in the much safer Democratic 35th District, which includes the other 61 percent of his territory and where 52 percent of voting-age citizens are Latino. He chose the 35th, apparently figuring that the state's new all-primary, top-two runoff system would give Republican voters a chance to vote for the more conservative Democrat against a more liberal candidate.
But in September 2011, Negrete McLeod said she decided to run for the seat after noticing that neither Baca nor any incumbent member of Congress actually lived in the district. "There's nobody there. All the people that were there kinda went "˜woop,'" she told the Los Angeles Times, waving her hands dismissively. "I saw the map. That's mine."
In the June primary, Baca took 45 percent to Negrete McLeod's 36 percent, sending both into a runoff. Despite Baca's significant fundraising advantage, he realized he had to make inroads with female voters. In 2007, women members of the Congressional Hispanic Caucus complained about Baca allegedly making sexist remarks, and all but one woman in the caucus abstained from the vote electing him as chairman. In the runoff campaign, Baca touted his endorsements from Democratic Sens. Barbara Boxer and Dianne Feinstein as well as his record of helping to create jobs for the hard-hit Inland Empire region, citing the more than $570 million that the 2009 economic-stimulus legislation brought to the area.
But Negrete McLeod accused Baca of not doing enough to help veterans, young people, and the disabled. She also criticized her opponent, an avid golfer, for what she called his frivolous introduction of bills to award Congressional Gold Medals to golf pros like Arnold Palmer and Jack Nicklaus. "I promise you, I won't try to honor any golfers," she told the Inland Valley Daily Bulletin.
Negrete McLeod was among the beneficiaries of New York Mayor Michael Bloomberg's super PAC. Bloomberg avidly supports gun control, and Baca was a vocal backer of gun owners' rights. Her greater familiarity with the district helped put her over the edge. In endorsing her, the Chino Champion newspaper said that "her major asset is that she lives in Chino and knows the community."
She and her husband, Gilbert McLeod, a retired police lieutenant, have 10 children, 27 grandchildren, and 18 great-grandchildren.
Chuck McCutcheon
We want to hear what you think about this article. Submit a letter to the editor or write to letters@theatlantic.com.