Big Confidence at Obama HQ
At Obama headquarters, a Person in the Know says a Romney victory would be one of the "most amazing political stories" of the past 100 years.
Adrees Latif/Reuters
CHICAGO -- Sooooo very fitting to have the Obama camp in Chicago, especially given late Tuesday afternoon comment by an Obama confidant that harkens to the legendary "Dewey Defeats Truman" headline of the Chicago Tribune.
"If we lose this, given how amazingly sophisticated our vote-targeting operation is, it will be one of the best, most amazing political stories since Truman," said this Person in the Know.
I asked if the insiders I'd spoken to, even guys I've known forever, were spinning me like a top with their seemingly supreme confidence.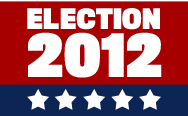 New, analysis, and commentary
from
The Atlantic
team.
"Nope," said the Person in the Know, who took me on a dizzying political tour d'horizon, as the French would put it, rattling off the combinations of states that Mitt Romney needs and that, in the Obama camp's mind, is a fool's errand.
Yes, Rep. Eric Cantor was thrilled with turnout in conservative southern Virginia, the Obama insider conceded. But that was easily matched by turnout in the northern part of the state around Fairfax, he said.
This person admitted to being a very late convert to the notion that the Obama campaign has taken the targeting of voters to new empirical heights; knowing whom they need, what those folks read, what they eat, you name it. But now he's seen their handiwork and is a believer.
"They know exactly the voters they must get out to win," he said. "With Romney, it's more of a hope about getting out the folks they need."
The Obama camp is convinced it will get Virginia, Wisconsin, and Ohio, among other key states. For sure, several are clearly in the statistical margin of error going into today. But they are bloodlessly convinced that Romney simply won't get the massive turnout, especially among white males, he needs.
On a very crappy, chilly, rainy fall day at Obama World Headquarters, the incumbent's crew is acting like they're Lotto winners sunning themselves on Anguilla.