Your Handy Debate-Day Reading Package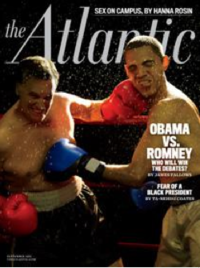 Just to have them all in one place:
- Here is "Slugfest," the story I did last month about why Mitt Romney is better in debates than in most other phases of campaigning, plus how exactly the Romney campaign has hoped to learn from the Carter-Reagan encounter in 1980.
- Here is "Rhetorical Questions," the story from 2008 that mainly went into Barack Obama's debating strengths and weaknesses as demonstrated during the long primary battle against Hillary Clinton, and also his bizarre encounters with Alan Keyes during his Senate campaign four years earlier.
- Here is "When George Meets John," the story from 2004 about the fascinating and disturbing changes in George W. Bush's on-stage demeanor and speaking style from his relatively silver-tongued debates against Ann Richards in Texas to his rhetorical difficulties on the national stage.
- Here is "An Acquired Taste," the story from 2000, about Al Gore's powerful history as a political debater and how George W. Bush might match it.
And since I haven't said it for a while, subscribe!