You'll Never Guess What Barack Obama Said About John Roberts
In a forgotten interview, he ruled out supporting the chief justice based on Roberts' excessive deference to executive power.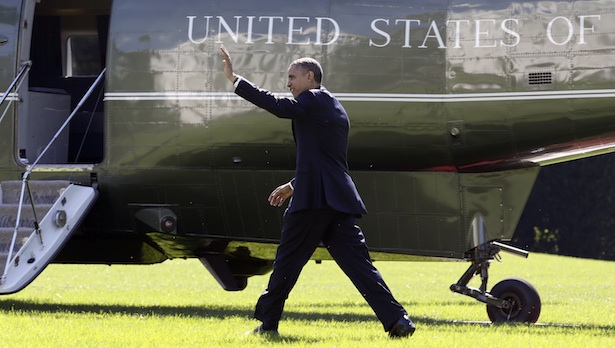 Reuters
Since taking office President Obama has taken a radically expansive view of executive power, asserting the right to extra-judicially kill American citizens in secret, bomb foreign countries without congressional approval indefinitely detain American citizens, and spy on them without warrants. In addition, he has aggressively prosecuted whistleblowers and constantly invoked the state-secrets privilege.

It is therefore jarring to look back on his Campaign 2008 discussion with Rick Warren, the megachurch pastor, particularly the part where he asked for Obama's thoughts on Chief Justice John Roberts:

WARREN: How about John Roberts?

OBAMA: John Roberts, I have to say was a tougher question only because I find him to be a very compelling person, you know, in conversation individually. He's clearly smart, very thoughtful. I will tell you that how I've seen him operate since he went to the bench confirms the suspicions that I had and the reason that I voted against him, and I'll give you one very specific instance and this is not a stump speech.

WARREN: All right.

OBAMA: I think one of the --

WARREN: I think --

OBAMA: Right, exactly. I'm getting the cues. I'm getting the cues. One of the most important jobs of, I believe the Supreme Court is to guard against the encroachment of the executive branch on the other, the power of the other branches.

WARREN: OK.

OBAMA: And I think that he has been a little bit too willing and eager to give an administration, whether it's mine or George Bush's, more power than I think the Constitution originally intended.
It's just one more piece of evidence that President Obama himself thinks some of the actions that he's taken in office assume "more power than ... the Constitution originally intended." It's galling for a man to tout the importance of adhering to the rule of law only to assume power and violate his own understanding of it. Obama should explain how he feels about the John Roberts take on executive power now.