Why Democrats Are Likely to Keep the Senate: A Look at the Key Races
Republican face a challenging map, made even harder by candidates like Richard Mourdock and Todd Akin.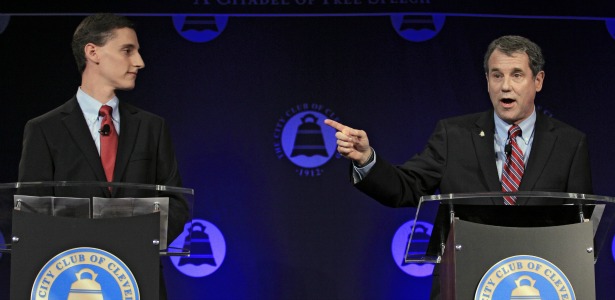 Even as the presidential race heads toward a photo finish, control of both houses of Congress is looking easier to predict than ever. Democrats' chances of retaking control of the House were always slim and now, despite Nancy Pelosi's many protestations to the contrary, it seems they've managed to squander what little shot they had. On the Senate side, meanwhile, Republicans' hopes for taking control seem almost as dim. Though the GOP needs a net pick-up of just four seats for a majority, that no longer looks likely. The reasons vary: some GOP candidates have run unexpectedly poor or gaffe-prone campaigns; some Democratic candidates have overperformed; and of course, unusual local factors have swung some races.
The GOP looks likely to pick up seats in Nebraska, North Dakota, and Montana; they could win in Wisconsin, too. But it would take victories in all four to take control of the Senate, assuming they also did not lose any seats. Democrats, however, seem to have a good chance at picking up Massachusetts, while Maine independent Angus King, who's headed for victory, is expected to caucus with Democrats. The party is well-situated to hold most of its other seats, and Indiana and Arizona aren't out of the question as pick-ups.
Here's a look at the major battlefields:
Looking Good for Democrats
1. Ohio: Senator Sherrod Brown (D) vs. Josh Mandel (R): Early this year, the freshfaced Mandel (he commonly makes jokes on the stump about hoping to shave someday) was touted as the next Marco Rubio -- a young, charismatic Republican who was headed for the Senate. But Mandel has struggled, weighed down by a seeming lack of knowledge on many policy details, questions about his ethics both as state treasurer and as candidate, and his own gaffe-prone demeanor. The race has also seen high outside spending on both sides. Nonetheless, Brown has maintained a lead -- never huge, but consistent -- and seems poised to win a second term.
2. Massachusetts: Senator Scott Brown (R) vs. Elizabeth Warren (D): Although it took her some time to find her footing -- especially given early stumbles over her debunked Native American heritage -- the populist hero and Harvard professor seems to have gotten into a groove. Brown is an incumbent (though not a regular one, as he's only served two years of Ted Kennedy's unexpired term) and has sensibly run to the center. But he faces the same challenging landscape of any Republican running the nation's bluest state. Most polls have given Warren a solid lead in the upper single digits -- although a Boston Globe poll released Monday may give her pause, as it shows the race tied. The pair's final debate, scheduled for Tuesday, was canceled due to Hurricane Sandy.
3. Virginia: Tim Kaine (D) vs. George Allen (R): In the face-off between two former governors, Kaine seems to be have the edge on Allen, who is trying to recapture the seat he lost to Senator Jim Webb six years ago; Webb is retiring after just one term. Interestingly, Kaine has tied himself to the president, whose fortunes in the state look dimmer than they did a month or two ago. Presidential coattails could be a deciding factor in the race.
4. Connecticut: Chris Murphy (D) vs. Linda McMahon (R): On her second attempt at a Senate seat in two years, McMahon -- former CEO of World Wrestling Entertainment -- has outspent Murphy, a congressman, five to one, and the polls show she's closer than she was in her race against Senator Richard Blumenthal. But she still trails in every poll, and is unlikely to reverse that trend before Election Day, especially in a Democratic state. Senator Joe Lieberman, an independent who caucuses with Democrats, is retiring.
5. Pennsylvania: Senator Bob Casey (D) vs. Tom Smith (R): This could be a sleeper race. Pennsylvania has been reliably, if moderately, Democratic territory for some time, and the incumbent Casey was thought to be safe. But a few polls in late October have seen his lead fall to single digits. Meanwhile, Mitt Romney is launching a new push to expand the presidential map into the Keystone State. While still a longshot, Romney's coattails could help Smith to a surprise win.
Down to the Wire
1. Missouri: Senator Claire McCaskill (D) vs. Todd Akin (R): This should have been an easy pick-up for the GOP. Akin, a U.S. representative, managed to run an impressive insurgent campaign and win the primary -- then exploded his candidacy with his comments about "legitimate rape" and conception. Although most leaders in his party promptly jettisoned him, some members have come back around. No poll has shown Akin leading since his comments, but McCaskill remains a very weak incumbent closely tied to Obama in a state that really doesn't like the president.
2. Indiana: Richard Mourdock (R) vs. Joe Donnelly (D): Indiana has played out much like Missouri: Mourdock defeated longtime Senator Richard Lugar in a Republican primary, but his hardline stance -- he's said his idea of compromise is Democrats agreeing to acquiesce with Republican wishes -- had the race closer than expected two weeks ago. That's when Mourdock, the state treasurer, stated that conception, even in cases of rape, was a gift from God. That caused a firestorm, and led many forecasters to declare the race a toss-up. There hasn't been a great deal of polling, and Indiana is tough going even for a conservative Democrat like Donnelly, but the race could be a sleeper pickup for the party. In a worrisome sign, Mourdock felt compelled to release an internal poll -- typically more favorable to the candidate -- which showed him tied with Donnelly.
3. Wisconsin: Tommy Thompson (R) vs. Tammy Baldwin (D): Although Wisconsin has recently made a name for itself as the cradle of Republican icons -- the Cheesehead Mafia -- the state may still elect Baldwin to replace retiring Democrat Herb Kohl. Thompson, a former governor and secretary of Health and Human Services has run a lackluster campaign plagued by gaffes (his own and his son's). Baldwin, a member of Congress, has clung to a thin lead in most recent polls.
Looking Good for Republicans
1. Nebraska: Deb Fischer (R) vs. Bob Kerrey (D): Fischer was another surprising primary victor, but she's managed to stay on course unlike her colleagues in Missouri and Indiana. Kerrey, a former senator, was drafted to run for the seat vacated by retiring Democrat Ben Nelson, but he seems to have lost his edge -- or at least his touch with Nebraskans -- during a sojourn in New York. In an odd twist, an Omaha World Herald poll last week showed his deficit dropping from 16 to 3 percentage points over the previous month, but the seat still looks ripe for Republican picking.
2. Montana: Senator Jon Tester (D) vs. Denny Rehberg (R): Tester is an outsize character in Big Sky Country, but that may not be enough to save him. The moderate has trailed Rehberg, a member of the House, by thin margins and faces a tough climate for a Democrat. Cook Political rates the race a toss-up; FiveThirtyEight gives Rehberg 2-to-1 odds of winning.
3. North Dakota: Rick Berg (R) vs. Heidi Heitkamp (D): Heitkamp's campaign has won her plaudits, but she still seems unlikely to hold the seat vacated by retiring Senator Kent Conrad. Most polls have shown her five to 10 points behind Berg, a freshman representative who toppled longtime Democratic Rep. Earl Pomeroy two years ago. Republicans are on the march in North Dakota, and Berg's ascent will probably continue.