Why California's Death-Penalty Repeal Is Surging in the Polls
Political ads work. So do proposed ballot measures that explain clearly in their text how and why the law ought to change.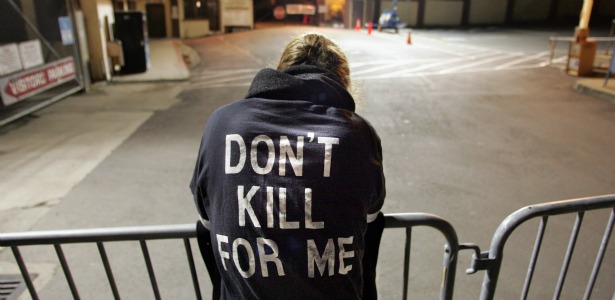 Reuters
On the front page of Friday's Los Angeles Times is a story headlined, "Support for end to California death penalty surges." Journalists Maura Dolan and Jack Leonard write in the lede: "Voter support for a ballot measure to repeal California's death penalty has jumped dramatically, though not enough to ensure its passage, a new USC Dornsife/Los Angeles times poll has found." With 11 days to go before Election Day, 42 percent of voters back the measure, and 45 percent oppose it.
But it's four paragraphs in the press release by the pollsters themselves that are particularly revealing here. They help explain why the race for this important measure is tightening and why partisans all over the country fight so hard, and often so bitterly, over the language that makes it onto ballots. First, money and advertising matter. And, second, it turns out that the more California voters read the text of the initiative the more they endorse the idea of ending California's capital punishment regime. Here are the paragraphs:
In September, 38 percent of voters supported Proposition 34, and 51 percent opposed it.

"There's no question that there has been a sharp shift in favor of a ban on the death penalty, which seems to have resulted from the fact that the initiative's supporters have been able to fund a much larger advertising campaign than the opposition," said Dan Schnur, director of the USC Dornsife/Los Angeles Times Poll and director of the Unruh Institute of Politics at USC. "The Proposition 34 campaign has been on the air and making up ground, but it is historically difficult to pass a ballot measure after it's been below 50 percent."

The fight over the death penalty actually reverses when voters were read the ballot language for Proposition 34, rather than a brief statement. The ballot language includes an explanation of the fiscal impact of the measure, with estimated savings from trials and appeals of $100 million in the first few years, growing to $130 million annually after. It also states that persons found guilty of murder must work while in prison, with their wages applied to victim restitution.

When read the ballot language including fiscal impact, a plurality of voters support repealing the death penalty: 45 percent of voters support Proposition 34 and 42 percent oppose it, with 11 percent undecided. This is a reversal from a month ago when Proposition 34 was behind 44-46, with 8 percent undecided.
You have to have a decent pitch, in other words, and you have to pitch it consistently well. If I'm an opponent of Proposition 34, this poll tells me that many voters are no longer buying the "weak-on-crime" argument I've been making, especially when confronted with the economics of the death penalty and the fact that the alternative punishment is a life sentence without the possibility of parole. If this poll is correct, and California voters are seriously considering an end to their state's failed experiment with the death penalty, it would be a very big deal.