Whoops! Maryland Sends Voters Notice Saying They're Probably Not Registered
A confusing postcard meant to boost registration has some long-time voters thinking they've been dropped from the rolls.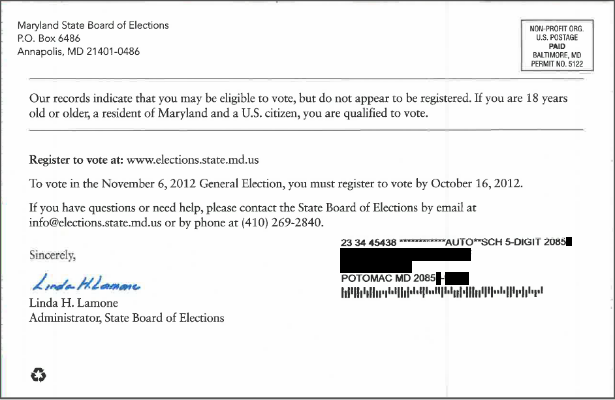 Maryland State Board of Elections
A Maryland resident and longtime voter got a confusing postcard in the mail on Wednesday telling her that she "does not appear to be registered to vote." Signed by the Administrator of the State Board of Elections, Linda H. Lamone, the missive instructed: "To vote in the November 6, 2012, General Election, you must register to vote by October 16, 2012," and provided an online address through which to register. It said nothing about ignoring the instruction if residents believed they were already registered, or using the site to check the status of an older registration -- common caveats in government notices of this type.

A single mail delivery mistake, maybe? No. The husband of our source -- both asked not to be identified -- is also a longtime voter registered in Maryland. He received the same postcard.

The husband says he voted in Maryland's spring primary in April. Neither he nor his wife had changed address or party affiliation in the intervening six months. They were perplexed. How could it be that they were no longer registered? The husband called the number on the postcard for the Maryland elections office. "I said, I've been voting in Maryland for the last few years, I voted in the spring primary, how can I not be registered?" he recalled of his conversation with a woman at the office. "And she said, 'Oh, we sent that to every voter.' Then she said, you know, 'Sometimes people change their name and address and they have to re-register.' It seemed like it was a mistake."
A mistake that went to every single voter in the state?
Well, not quite. But the reality is bad enough. The card was send to 1 million eligible voters in Maryland, according to Ross Goldstein, deputy administrator of the Maryland Board of Elections. The state has 3.5 million registered voters, he said. Census data shows the state had 5.9 million residents in 2011.

"I don't think it will impact turnout on the Election day," Goldstein said, though he acknowledged the postcards have confused some people who are already registered. "Many people who erroneously got a notice have called."
The cards were sent out as part of an initiative between state election officials and the Pew Center on the States to help update the voter rolls by cross-checking them with other databases.
"As with any data-match situation it's not perfect," Goldstein said.
The Pew Center on the States in February issued a report, Inaccurate, Costly, and Inefficient , finding that the paper-based U.S. elections registration system was plagued with errors, keeping 2 million dead people on the rolls, along with approximately 2.75 million who were registered to vote in more than one state. Meanwhile, more than 24 percent of the eligible voting population remained unregistered. Their solution: the Electronic Registration Information Center, a database that allows states to share registration and other data to clean up and streamline the rolls and, according to Pew, "remove duplicate and invalid records from state voter files."
The result in Maryland: Long-time voters like our sources being told they are probably not registered anymore.
Such notices could be especially disconcerting for those who are vulnerable to trouble with voting, such as seniors, the disabled, and students. (Imagine a senior citizen, a long-time Maryland voter, receiving this notice, and having to sort out what happened to her registration.)
But even for those who are properly targeted by the notices, the week-and-a-half given to register is not a lot of time, especially for the poor or elderly who may not have routine access to the Internet, or younger folks who are busy or traveling. The card says nothing about the possibility of paper registrations.
Maryland is not a swing state, but several other states using the ERIC system are. It's also being used Virginia, Colorado, Nevada, Washington, Utah, and Delaware, Gita Ram, a communications officer at Pew Center on the States, said in an email.
In the run-up to this election, we've already seen a number of new voter ID laws with the supposed aim of stopping voter fraud struck down because they threatened to disenfranchise thousands of voters. Given the climate these ID laws and the legal fights over them have created, the idea that confusing messages like this one were sent erroneously to registered voters in Maryland by the state itself is disturbing.