When Michelle Obama Talks, Do Women Listen?
With Mitt Romney threatening to close the gap among female voters, the first lady could be one of the greatest assets her husband's reelection campaign has.
With Mitt Romney threatening to close the gap among female voters, the first lady could be one of the greatest assets her husband's reelection campaign has.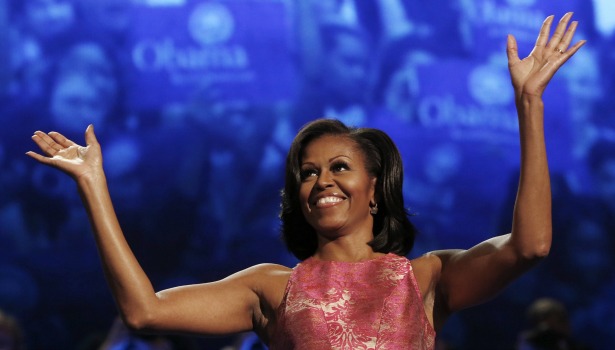 Reuters
First Lady Michelle Obama can charm talk-show hosts, deliver winning anecdotes about her husband's socks, and bake a mean cookie. The mom-in-chief, as she calls herself, has broad appeal, but she's particularly good at firing up the Democratic base. And as the candidates fight over female voters, Michelle Obama's popularity could be pivotal.
Polls have given the president a substantial advantage among women voters throughout the cycle, but some recent polls -- like a USA Today/Gallup poll last week -- have shown gains for Republican nominee Mitt Romney as the race enters the final two weeks.
For both candidates, "probably their best surrogate on the campaign trail and their best endorser when it comes to women's issues is their spouse," said Lisa Burns, professor of communications/media studies at Quinnipiac University.
This cycle, Michelle Obama has taken on an unusual role for a first lady: encouraging the Obama campaign's grassroots organizers and emphasizing political participation. The first lady held eight grassroots rallies in September and 12 in October so far, all in critical battleground states.
While Burns said that it's more typical for a first lady to be raising money on her husband's behalf rather than holding rallies, in "such a close race, they need as many people out there trying to get votes as possible."
Michelle Obama's electrifying speech at the Democratic convention left no doubt that she's just as good -- if not better -- at whipping up a liberal crowd than her husband. "Today, I have none of those worries from four years ago, no. Not about whether Barack and I were doing what was best for our girls," she told Democrats, explaining that her husband's reelection is the best way to ensure a better future for her daughters. When she closed, with an exhortation to Democrats to "work like never before," the cheers in the hall were deafening.
The first lady's broad popularity makes her a particularly good surrogate. Sixty-nine percent of the public approve of her, according to an October ABC News/Washington Post poll, a rating comparable to that of her popular predecessors Barbara and Laura Bush.
For many women, particularly minorities, Michelle Obama is an inspiration and a role model. That's a persona that can only help her husband as he fights for female votes. "There's not even a question" that when Michelle Obama talks to other women, they listen, said Myra Gutin, professor of communications at Rider University.
But she hasn't always been so popular. During the 2008 campaign, Michelle Obama faced enormous criticism for telling a Wisconsin crowd "for the first time in my adult lifetime, I'm really proud of my country." There were concerns that she would be a first lady in the mold of Hillary Rodham Clinton, a wife pushing her own policy agenda behind the scenes.
Instead, she has been a first lady more in the mold of Laura Bush, advocating for mom-friendly issues that don't distract from her husband's agenda. Unlike Laura Bush, however, Michelle Obama hasn't kept her advocacy behind the scenes.
Romney's wife, Ann, is also well-liked, capable of giving a strong speech and delivering personal anecdotes that soften her husband's image. Ann Romney has also been an important conduit to female voters: her speech at the Republican convention, which included an ode to women and the burdens they bear, is a case in point.
But while Ann Romney tends to talk more generally about her husband's kindness and leadership, Michelle Obama has made the case that the president deeply understands what women's lives are like.
"It's the moms of this nation -- single, married, widowed -- who really hold this country together," Ann Romney told Republican delegates. The mother of five boys went on to suggest that there's a gulf between men and women that can't be bridged. "I'm not sure if men really understand this, but I don't think there's a woman in America who really expects her life to be easy," she said.
Compare that to Michelle Obama at a campaign event last week. "I loved that Barack was so devoted to his family, especially the women in his life," the first lady told donors in New York. She listed the influence of the single mother who raised him, the grandmother he saw treated unfairly in the workplace, and their two daughters.
"When it comes to standing up and understanding the lives of women, when it comes to making sure that we have rights and opportunities, we know good and well that this president will always have our backs," the first lady said.