What Will Hurricane Sandy Do to Early Voting?
The massive storm is already leading to shutdowns and extensions at the polls.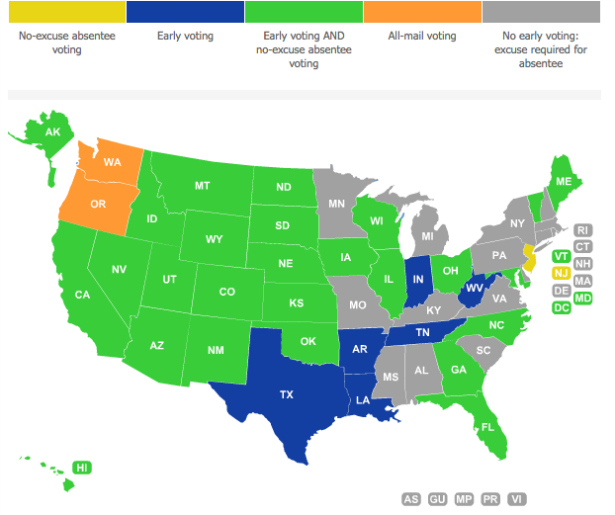 Updated 7:38 p.m. Snow, wind and rain could keep voters in the path of Hurricane Sandy from early or in-person absentee voting, delay mail delivery of absentee ballots, and cut into early-voting days by forcing states battered by the storm to halt early balloting. Here's what we know about what's happening so far:
Connecticut: Voter-registration deadline extended.
Gov Malloy will sign an executive order tonight extending voter registration deadline to 8pm Thurs, Nov 1. Original deadline was Tuesday

— Governor Dan Malloy (@GovMalloyOffice) October 28, 2012
Maryland: Early voting suspended on Monday. "Due to the potential impact of Hurricane Sandy, Maryland Governor Martin O'Malley has declared a State of Emergency and ordered all Early Voting Centers in Maryland closed on Monday, October 29, 2012." Early voting had only opened on Saturday, October 27.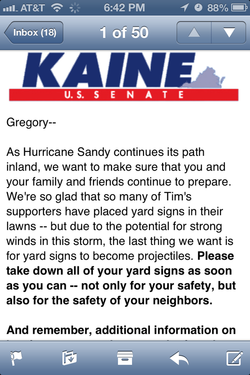 Washington, D.C.: Early voting suspended Monday. The federal government is closed Monday for all non-emergency personnel. All Metro service for Monday -- rail and bus lines -- has been suspended. Early voting across the city had begun on Saturday, but the D.C. Board of Elections has "has suspended the operation of its early voting sites on Monday October 29, 2012 due to the forecast arrival of Hurricane Sandy."
Virginia: Kaine says to bring those yard signs indoors. Democratic U.S. Senate candidate Tim Kaine is asking supporters to uproot campaign signs and bring them indoors so they don't become wind-borne projectiles.
The storm could potentially slow the pace of of early or in-person absentee voting in the three swing states of Virginia, Ohio, and North Carolina -- and is already leading to major changes in the campaign schedules of President Obama and Mitt Romney.
Developing ...