What Are the Koch Brothers Up to These Days, Anyway?
Employees at one of the conservative megadonors' companies received a list of recommended candidates in upcoming elections.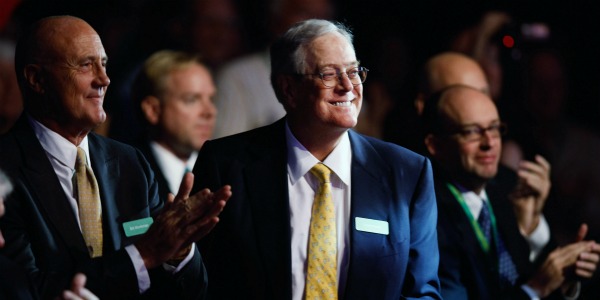 Getty Images
Remember when liberals saw David and Charles Koch hiding behind every rock? (Call it the Koch Classic era.) Since then, they've faded a bit from view: Mitt Romney and Paul Ryan have become Democrats' favorite bogeyman buddy act, and super PACs have exerted less influence so far than expected. If you don't believe it, check out this chart, made with Google Trends data, on the number of web searches involving them: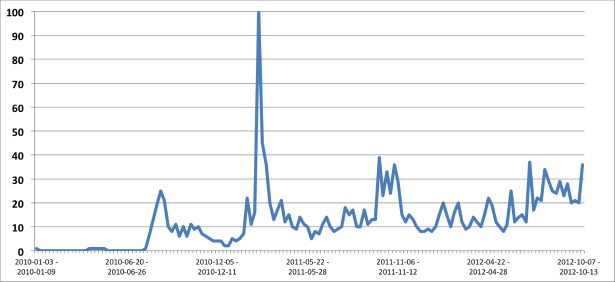 But now they're back. The liberal magazine In These Times got its hands on some information that was sent to employees at the paper company Georgia Pacific, one of many companies owned by Koch Industries. A cover letter from Koch Industries CEO Dave Robertson begins:
While we are typically told before each Presidential election that it is important and historic, I believe the upcoming election will determine what kind of America future generations will inherit.

If we elect candidates who want to spend hundreds of billions in borrowed money on costly new subsidies for a few favored cronies, put unprecedented regulatory burdens on businesses, prevent or delay important new construction projects, and excessively hinder free trade, then many of our more than 50,000 U.S. employees and contractors may suffer the consequences, including higher gasoline prices, runaway inflation, and other ills.
Enclosed is a list of suggested candidates for employees to vote for; in the Oregon version acquired by In These Times, all 14 candidates were Republicans. Koch Industries's says, in essence, who cares? Unions do this stuff all the time! What makes this letter stick out is the implicit threat: Vote for the candidates we recommend or else this company -- and by extension your employment -- may be in jeopardy. (This seems to be a bit of a trend lately.)
Meanwhile, in other Koch-related news, a former employee has accused David and Charles' estranged brother Bill of imprisoning and interrogating him at his ranch in Colorado. It's a weird world out there.