Utilities, Generators Powerless Against Powerful Hurricane Sandy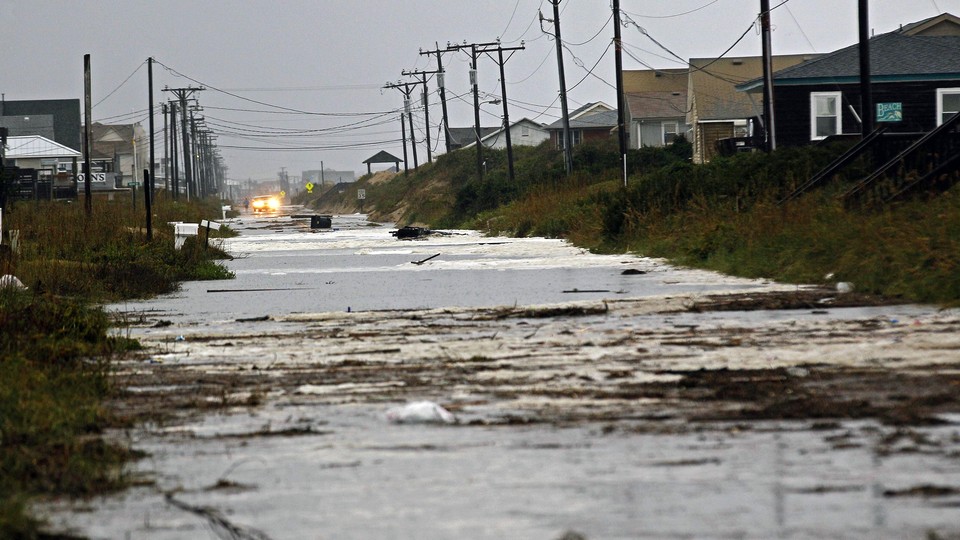 Major storms like Hurricane Sandy reveal one of the biggest public-perception gaps with energy: You don't notice it until it's gone.
Over the next few days, millions of people living along the Eastern Seaboard stretching from the Carolinas to Canada are expected to find out the hard way just how much they rely on a steady supply of electricity.
"The public should anticipate that there's going to be a lot of power outages," President Obama said on Monday. "And it may take time for that power to get back on."
Obama's comments echo what the Edison Electric Institute, the country's biggest electric utility trade group, warned in a statement on Sunday. "We strongly urge customers to prepare for the possibility of extended outages due to the enormity of Hurricane Sandy, which forecasters predict may be the worst storm to hit the Northeast in 100 years," Brian Wolff, EEI's senior vice president, said in a statement.
As of Monday morning, fewer than 40,000 households throughout the affected areas, including at least seven Northeastern states, were without power, according to the Energy Department. But that number is expected to multiply rapidly as Sandy spreads over the nation's most populous regions, including New York City.
The utility industry has had plenty of practice for this week's superstorm. At the end of June, a fast-moving "derecho" storm knocked out power for 4.3 million customers in the Midwest and Mid-Atlantic, and in the summer of 2011, Hurricane Irene blacked out 6 million homes and businesses in the East. In an ominous sign of things to come, Sandy is already considered much worse — and much bigger — than Irene.
After Irene, between 30,000 and 50,000 utility line workers were involved in the cleanup and power-restoration effort, according to EEI President Tom Kuhn. Utilities must strike a delicate balance between ensuring they have the resources to respond adequately to major storms like Sandy and also keeping electricity rates low.
"It is not realistic for customers to expect perfect service during significant weather events when they also want their rates kept low," said Christine Tezak, managing director at the Washington-based ClearView Energy Partners.
Sandy is raising concerns about more than a dozen nuclear power plants that are in its projected path. The Nuclear Regulatory Commission is taking precautions by sending additional inspectors to sites likely to be impacted by the hurricane in order to supplement the full-time personnel already there.
Plants in Maryland, New Jersey, Pennsylvania, New York, and Connecticut are receiving "enhanced oversight during the storm," according to the agency.
Reactors are required to shut down in advance of any projected hurricane-force winds. Since plants rely on power from the grid for normal operations, if offsite power is lost during the storm, the plants' emergency diesel generators are expected to kick in. The NRC insists that "all plants have flood protection above the predicted storm surge and key components and systems are housed in watertight buildings capable of withstanding hurricane-force winds and flooding."
After the storm, the plants cannot restart until the Federal Emergency Management Agency gives them an all-clear, according to emergency procedures and regulations.
"All U.S. plants have been reviewing their emergency procedures and resources in line with one of our orders from March, which requires the plants to obtain enough emergency portable equipment to cover every reactor at a given site," NRC spokesman Scott Burnell told National Journal on Monday. "At this point, the plants' existing permanent backup equipment is ready to respond to any storm-related issues."
Much of the focus of energy infrastructure has been on traditional electricity sources, but wind turbines, some of which are as tall as the Statue of Liberty (more than 300 feet), are also at risk of hurricane-force winds.
"Wind turbines are designed specifically to harness the wind, but they are also designed to withstand it," said Ellen Carey, spokeswoman for the American Wind Energy Association. "Modern wind turbines utilize several techniques to reduce the likelihood of harm."
Most wind turbines are built to withstand wind speeds of 120 to 135 miles per hour, Carey added. Sandy is expected to carry wind speeds up to 90 mph.
It's not just electricity that's at risk of Sandy's wrath. Several oil refineries along the East Coast are planning to shut down or have already done so. The impact on gasoline prices and other refined oil products like diesel, heating fuel, and jet fuel depends on the severity of the storm.
"If there is any damage to those refineries as a result of flooding or wind damage and those refineries are not able to resume production relatively quickly, within a week, there is some potential for price spikes in gasoline, diesel, and heating fuel," said Alfred Luaces, senior director of global petroleum markets' research and analysis division at the consulting firm IHS, in a phone interview on Monday.