The Vice-Presidential Debate: Battle of the Liabilities
With both running mates a drag on their respective tickets, their best-case scenario in Thursday's debate may be to do no harm.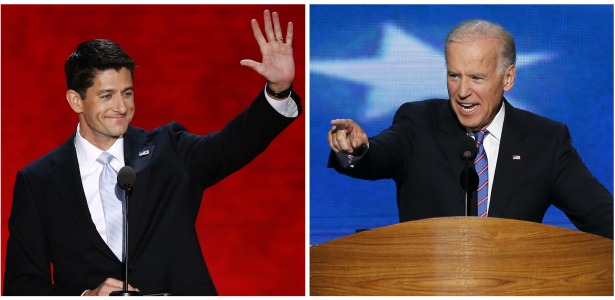 Reuters
The press loves Joe Biden, the over-the-top, unrestrained, never-a-dull-moment vice president. But the American public does not: In most polls, he's viewed slightly more negatively than positively. When the Pew Research Center last month surveyed Americans and asked them to describe the vice president, the result, according to pollster, was this: "Aside from clown, a number of people describe Biden as stupid, a joke, goofy and a buffoon."
Republican elites love Paul Ryan, the earnest, bright-eyed young budget wonk who brings boldness and gravitas to the party's policy argument. But the American public does not: Like Biden, Ryan's favorable and unfavorable ratings tend to be upside-down or about even. Since Ryan was named to the GOP ticket, polls have found Obama with a strong lead on the issue of which candidate would better handle Medicare -- evidence, to some, that Ryan has hurt Romney when it comes to the congressman's signature reform issue. In Pew's survey, people described Ryan as "intelligent," but also as "unknown" and "young."
On Thursday, Biden and Ryan meet for their only debate, a 9 p.m. faceoff at Centre College in Danville, Kentucky, moderated by ABC's Martha Raddatz. Given the low regard in which both men are held, their best hope might be to do no harm.
The debate also comes at a time when the dynamic at the top of the ticket has never been more tumultuous. President Obama's campaign is reeling and Mitt Romney's is soaring after the first debate between the two upended the campaign last week. Biden will be looking to repair some of the damage by aggressively making the case that Romney and Ryan haven't been truthful about their plans. (As the colorful chairman of the South Carolina Democratic Party, Dick Harpootlian, told Politico, "Joe's gonna take out the old meat-ax and go to work. They'll have to call the Humane Society.") And of course, he has to avoid sticking his foot in his mouth as he's so often done. Biden hasn't sat for a nationally televised interview since May, when he spoke out of school by saying he was in favor of gay marriage on Meet the Press.
Ryan's task will be to live up to his reputation for seriousness without seeming callow. He'll also face a challenge on foreign policy: It is in the news with the renewed turmoil in the Middle East and North Africa, and has long been a specialty for Biden, a two-time chairman of the Senate Foreign Relations Committee, but is not an area in which Ryan has much expertise. He may also face higher expectations: In recent polls in three swing states, voters said they expected the Republican vice-presidential nominee to win the debate.
For a quick education on the two men's styles, these two videos should tell you all you need to know. First, a 10-minute recap of Biden's debate with Sarah Palin four years ago:
Biden faced a tightrope-like challenge in that debate: He couldn't seem condescending or sexist against the younger, less experienced woman. As you can see in the clip, he threaded the needle expertly, keeping a serious mien and staying focused on John McCain rather than Palin. As Palin unloaded the winks, "betcha"s and "say it ain't so, Joe," Biden didn't try to compete with her in the folksy department, choosing sober gravity instead. Afterward, 51 percent judged Biden the winner, versus 36 percent who scored the debate for Palin. It was a reminder that despite Biden's current reputation as a gaffe-prone gadfly, he's still the politician who, in 1987, shocked Washington by systematically taking down Supreme Court nominee Robert Bork in a series of high-profile Judiciary Committee hearings.
Next, check out this video of Ryan taking on Obama in a bipartisan summit on health care at the White House in February 2010:
The young congressman proceeded systematically through a thicket of budget numbers and statistical arguments, winding up with a respectful but devastating appeal to the popular will. "The American people are engaged," he said, "and if you think they want a government takeover of health care, I would respectfully submit you're not listening to them." The footage went viral among conservatives who were thrilled at the sight of the president being dismantled, point by point, on his signature legislative accomplishment. This is the Ryan Republicans will be hoping to see: Studious, persuasive, and armed with the facts to make his case.