As Romney rolls out a kinder, gentler image, it's worth considering the press role in strengthening the impact of his debate win.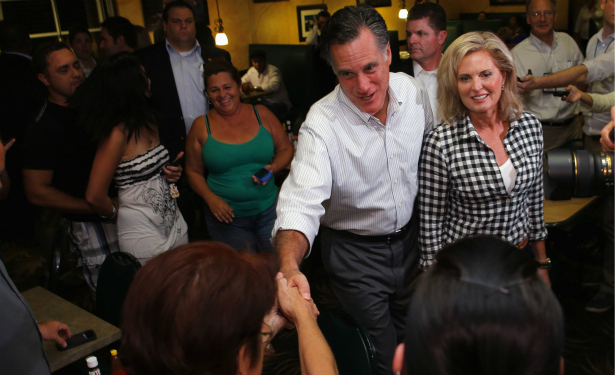 Reuters
Two weeks ago, when I asked what the elements of the "new" Mitt Romney would be once the inevitable "Mitt Romney comeback" narrative took shape, I singled out "previously undiscovered sense of humor" as one candidate. But, now that the comeback narrative has taken shape big time, it turns out that Mitt's newfound wit is only a small part of the package.
Last week's debate, the New York Times reported this weekend, gave Romney's campaign aides the Romney they "had longed to see all year: funny (joking about the "romantic" evening he and Mr. Obama were spending on the president's 20th wedding anniversary), commanding (challenging Mr. Obama on taxes and government spending) and even warm (placing his right hand over his heart at the end of the debate, in an homage to his supporters in the crowd)."
Of these three ingredients -- funny, strong, sensitive -- it looks like "sensitive" is getting the biggest rollout. The Times: "[H]is campaign seemed determined not to let that more emotive, three-dimensional Mitt Romney slip away. Before the crowd of several thousand, Mr. Romney shared stories of friends who had died." (No word from the White House yet on whether President Obama has any dead friends he can talk about.)