The Incumbent Curse Strikes: Obama Falls to Romney in Debate
The president seemed peeved and flat, while his challenger went on the offensive in Denver.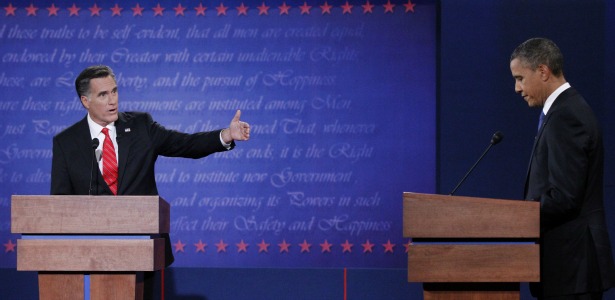 Reuters
Call it the curse of incumbency. Like many of his predecessors, President Obama fell victim Wednesday night to high expectations, a short fuse, and a hungry challenger.
If Republican presidential candidate Mitt Romney didn't win the first of three presidential debates outright, he more than covered the spread. He was personable, funny, and relentlessly on the attack against Obama.
The president looked peeved, flat, and -- this is the incumbent's curse -- for the first time in four years had to carry a conversation with somebody telling him he's wrong.
---
MORE FROM NATIONAL JOURNAL
---
"Going forward with the status quo is not going to cut it for the American people who are struggling today," Romney said, stealing the mantle of change Obama wore so well in 2008.
The former Massachusetts governor also reminded voters repeatedly that the president has not lived up to promises he made four years ago. After Obama vowed to reduce the deficit in a second term, Romney replied, "You've been president four years."
"You said you'd cut the deficit in half. It's now four years later. We still have trillion-dollar deficits," he said. Time is up was the message for voters.
To be fair, the deck was stacked against Obama, who came into the debate with a lead over Romney plus plenty of baggage.
Voters expect sitting presidents to win debates and, indeed, polls showed that Obama was heavily favored Wednesday. That benefits a challenger like Romney who grows in stature simply by standing next to the president.
Romney helped himself by looking directly at Obama when he answered questions. Obama looked at moderator Jim Lehrer, which on screen made it appear like he was speaking to the ground.
Romney smiled and cracked jokes ("I like Big Bird!"). Obama smirked.