The GOP Grannies Who Love Paul Ryan
Forget winning over the Gen X vote. Ryan's biggest fans are older voters who loved his respectful demeanor at the vice-presidential debate.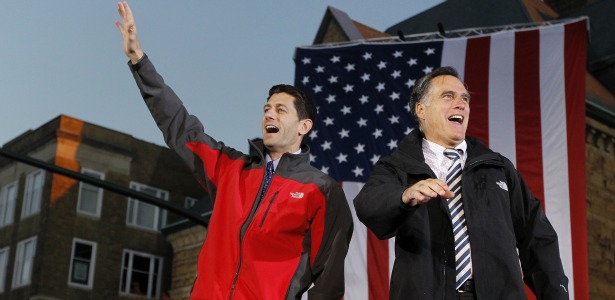 Reuters
LANCASTER, Ohio -- The reviews of Paul Ryan's performance in his debate against Vice President Biden last week have been mixed. The Republican congressman held his own, but often seemed to fade into the woodwork compared to Biden's goofy, scenery-chewing act. He struggled to match his counterpart's relentlessness, complained about the constant interruptions, and was frequently on the defensive.
But there's one vital demographic that was perfectly satisfied with how Ryan acquitted himself: the grannies.
"I thought Paul Ryan came out looking very responsible and intelligent, and personally I did not think the vice president did," said Susan Seifert, a 65-year-old retired housewife who lives on a farm in rural Ohio and brought her 16-year-old granddaughter here to see Ryan and Romney the day after the debate. Given the way he acted, she said -- "all that smirking and grinning" -- Biden "doesn't seem to be taking the country very seriously."
Several older women I met at the rally put it in similar terms: Ryan, 42, struck them as a nice young man, Biden, 69, a grating boor. Some Republicans might have wished Ryan pushed back harder against Biden's aggressive assault, but these ladies appreciate that he minded his manners.
Romney, who often seems to view his running mate with an affection more paternal than comradely, struck a similar note in his speech at the rally, which filled this central Ohio factory town's main square in the gleaming autumn twilight.
"There was one person on the stage with thoughtfulness, who was respectful, who was steady and poised," Romney said of the vice-presidential debate. "There was one person on that stage who you'd want to be with in a crisis, and it's this man right here."
Steadiness, respect, good behavior: They're qualities that endear Ryan to the elderly voters that are the Republican ticket's strongest base of support. When he was named to the ticket, many speculated his relative youth and dashing good looks might help win over young voters. Instead, they seem to have endeared him more than anything to older voters who see in him a well-mannered son or grandson, deferential to authority and not inclined to make trouble.
"I thought Paul Ryan was respectful and knowledgeable. He was head and shoulders above the other man," said Nancy Runion, a 58-year-old office manager from Findlay, Ohio, who drove two and a half hours to the rally in Lancaster. "Biden was very disrespectful. But Paul Ryan showed a lot of character."