The Economic Indicator That Could Predict the Election Outcome
Forget Sandy, ignore ground game. If you want to know why this election is such a nail-biter, look to this one statistic.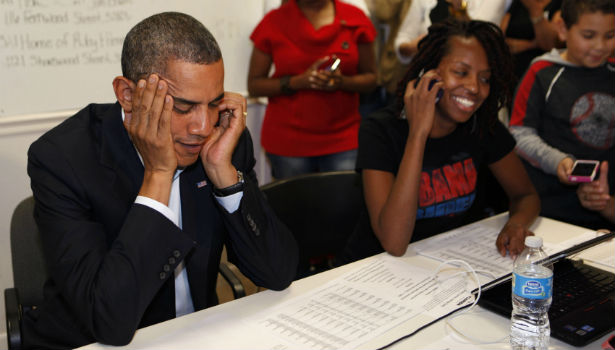 For the entire presidential campaign, a prominent political scientist has cast a wary eye at most punditry and the unrelenting media accounts of strategies, tactics, strengths, and weaknesses of the Obama and Romney campaigns. Even the last-minute complication of Hurricane Sandy doesn't move him much.
Instead, John Mark Hansen of the University of Chicago has, along with some others in his academic universe, awaited a set of numbers they deem far more predictive of who will win: the third-quarter personal income growth of Americans.
They find a direct correlation between those numbers and whether, in particular, an incumbent tends to win. It's a refrain you'll hear at political science conventions, with their innumerable panels dissecting the most recent election. So much of what the media tends to focus on, said the academics, may be unavoidable, but off the mark as far as ultimate impact.
The numbers many of them crave just arrived: The growth between the third quarter of 2011 and the third quarter of 2012 is 1.10 percent.
"It's much lower than what I expected it to be," Hansen said Sunday.
"Real disposable income was essentially flat from the second quarter to the third quarter once you take population growth into account," he said. That is not good news for President Obama.
He noted that 1.1 percent personal income growth is still a lot better than the figure in 1980, when Jimmy Carter lost the presidency to Ronald Reagan. That year, the increase was a meager .05 percent. And it's better than the 0.7 percent increase in 2008, when Obama topped John McCain, who was clearly saddled with the economy of the outgoing George W. Bush.
But it is a fair bit short of 1996 (1.7 percent increase), when Bill Clinton won a second term against Bob Dole, and 2004 (2.7 percent), when Bush vanquished John Kerry.
"Leaving out everything else, if you make a forecast based only on the historical relationship between personal income growth and vote share for the incumbent party, you expect Obama to get 48 percent of the vote," said Hansen, former dean of the school of social sciences and a special adviser to the university's president.
From a statistical point of view, he concedes, there is some uncertainty about that number, in part because of other matters that enter as influences on the outcome -- especially, in this case, incumbency. But given the historical precedents he analyzes, "it's no wonder that this is a nail biter."
The income growth number will very likely be revised, as later information comes in, and it's unclear at this point which direction the revision might go in. The potential change reflects the three possible sources of error when calculating real disposable income per capita: mistakes in estimating personal disposable income, the nation's inflation rate, and the population.
But it's unlikely that there will be any significant change; which means that, at minimum, the new numbers underscore a reality that's surely no surprise to either camp: a recession-plagued economy improving in small fits and starts.
Can a potentially superior Obama ground game surmount the political challenge the economy poses -- especially in an election in which there may be few truly undecided voters but rather larger slivers who are currently soft in leaning toward either candidate?
The academics don't dispute that prospect. But they generally put a bit less stock in factors like the ground game than political analysts do. Those income growth figures, they assert, haven't tended to lie.
To the extent some economists demur over the relevance of the personal income growth data to the election, their qualms have less to do with the significance of that type of data to the election, and more to do with whether the third-quarter figures are, by themselves, all that significant.
In a recent posting on his Monkey Cage blog, George Washington University political scientist John Sides noted the work of academics Robert Erikson and Christopher Wlezien, who have analyzed nearly 60 years of economic and election data. "One can predict that actual vote from the current income growth about as well in April as in November. By April, the economic cake is largely baked," Erickson and Wlezien conclude of the data's impact on this year's election.
Either way, Hansen is right about one thing: We're looking at a nail-biter.