The Denver Debate Ignored Hugely Important Domestic Issues
It isn't in the interest of Republicans or Democrats to talk about government spying, climate change, whistleblowers, and numerous other subjects.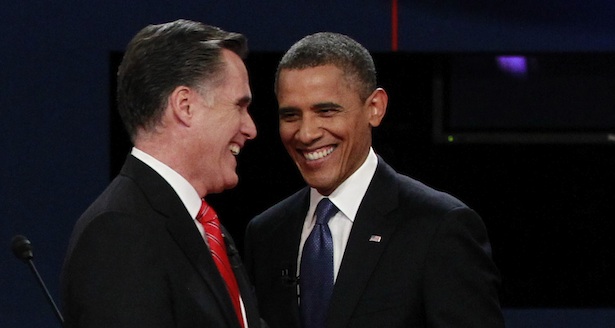 Reuters
Before Wednesday night, voters dissatisfied with President Obama and Mitt Romney urged the Commission on Presidential Debates to include Libertarian Gary Johnson and Green Party nominee Jill Stein on stage. It didn't happen, of course, and partly for that reason, no one was there to object when moderator Jim Lehrer focused on a very narrow range of domestic policy issues.
The economy, taxes, and health care are all important. They've also been covered to death for months. It's unlikely that discussing them even added anything the public wouldn't have otherwise known, save that on Wednesday, Romney did a better job of communicating his arguments.
I don't counsel ignoring those issues in debates. But why focus on them exclusively? One reason is that neither Republicans nor Democrats are interested in talking about certain subjects:
The fact that America incarcerates a higher percentage of its population than any other Western country.
A War on Drugs that has been waged for half a century without victory or the prospect of it.
Widespread warrantless spying on Americans.
The risks posed by climate change.
The widespread abuse of asset forfeiture laws.
The codification of indefinite detention.
 The ratcheting up of airport security.
A concerted campaign to prosecute government whistleblowers.
This is only a partial list.

By this time, a campaign is always going to be focused on the issues raised by the Republicans and Democrats. Lehrer, who gave an abysmal performance, didn't do anything to broaden the debate.
When people with different priorities are out of sight, their critiques remain out of mind. Including established third parties in the presidential debates, when they're on the ballot in enough states to win the Electoral College, isn't important because any beneficiary is likely to win. It's important because lots of issues are too important to be perpetually ignored. And it would be far harder to ignore them if folks with different perspectives were raising them in prime time. The issues I've mentioned will be subject to the policy-making of the next president.
Wouldn't it be nice if they were forced to grapple with them more?