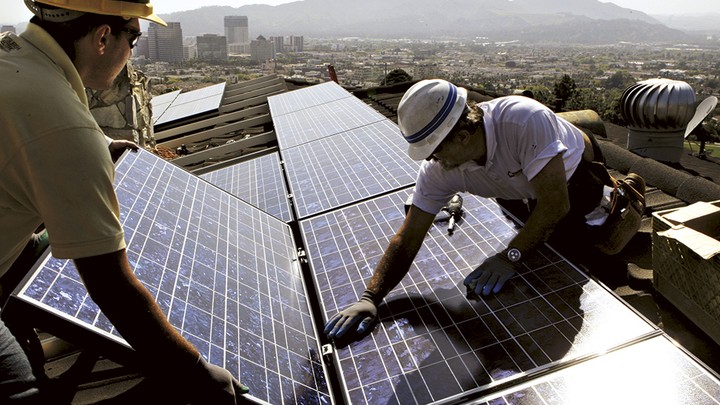 The Commerce Department next week plans to make public its verdict in a case charging Chinese solar-panel makers with illegal trade practices. The expected result? Major tariffs on Chinese solar products. At first glance, slapping hefty tariffs on solar-panel imports from China looks like a win-win for the Obama administration and the solar industry. After all, in the past several years, China has become the world's largest producer of solar panels, accounting for about two-thirds of global production. Four of the world's top five manufacturers are Chinese; only one is American.
U.S. companies pushing for tariffs blame illegal subsidies by the Chinese government for sending prices for solar equipment to the floor, making it hard for domestic producers to stay in business. Time would seem to be ripe, then, for some government action.
But not everyone in the industry agrees with the U.S. plan to impose tariffs ranging from 31 percent to 250 percent on Chinese solar panels shipped to the U.S. When Commerce issued its preliminary tariff decision this spring, the U.S. industry's lobbying group, the Solar Energy Industries Association, didn't roar in approval. Instead, it sought an entente.
"The solar industry calls upon the U.S. and Chinese governments to immediately work together towards a mutually satisfactory resolution of the growing trade conflict within the solar industry," SEIA President and CEO Rhone Resch said in May, noting, "Disputes within one segment of the industry affect the entire solar supply chain — and these broad implications must be recognized."
And there's the rub. While tariffs on Chinese solar imports might help some U.S. manufacturers, they could jeopardize other players in the industry, including solar installers, sellers, and distributors, as well as manufacturers that don't produce solar cells and modules.
The nonmanufacturing sectors represent the largest chunk of the solar industry, which in 2011 employed an estimated 100,237 workers in the United States, according to a job census from the independent Solar Foundation. More than three-quarters of those jobs were in installation, sales, distribution, and other fields; just under a quarter were in manufacturing. More than half of those jobs — 52,503 — were in installation alone.
Many solar installers, sellers, and distributors fear that placing duties on Chinese panels will raise prices and cripple U.S. demand over the long term, at the cost of jobs that depend on affordable solar prices. A study from the consulting firm Brattle Group in January estimated that a 50 percent tariff would result in anywhere from $621 million to $2.3 billion in net consumer losses and cost about 15,000 to 43,000 jobs over a three-year period.
"If they screw with the solar-cell costs basis, it could have negative repercussions down the chain," said Jigar Shah, president of the Coalition for Affordable Solar Energy, a group of solar companies that oppose the tariffs and commissioned the study. Low solar prices might negatively affect U.S. manufacturers, but they also bring down total system costs for installers, sellers, and distributors.
"They're not looking at the broader picture," Shah said of the Commerce Department and U.S. International Trade Commission investigations, which began last year and focus solely on the harm to American producers. Despite possible implications for consumers and others in the industry, "they're not allowed to" broaden that scope, he said.
Shah and other tariff opponents also see low prices as key to the growth of the solar industry. That is because the industry isn't just battling China; it also has to compete with fossil fuels and other traditional energy sources. The ultimate goal for the industry is to achieve "grid parity," or the point at which solar energy equals the cost of competing sources. It's the "holy grail," as lawyer Richard Weiner told the ITC at a hearing on Wednesday. As the price of natural gas has plummeted in the past several years, low solar-system costs have become even more critical.
Tariffs get in the way of that, said Kevin Lapidus, senior vice president at Sun Edison,a California-based company that installs solar panels.
"The timing of this case could not be more ironic," Lapidus told the ITC. "After years in which the criticism of solar energy in the United States was that it was too expensive, the U.S. solar industry is now delivering on its social compact to meaningfully reduce the price of solar in exchange for the government support it has received to date."
So the industry faces a dilemma: Low prices mean widespread growth of solar power and greater market acceptance. At the same time, Washington can't ignore trade violations or shy away from enforcement.
"This case is very important to make sure that everybody's following the same rules," said Tim Brightbill, lead attorney for proponents of the tariffs, including SolarWorld Americas and other U.S. producers. Their case charges Chinese solar companies with "dumping," or illegally selling products below market price in the U.S., and it accuses the Chinese government of illegally subsidizing solar-panel exports to the United States. The resulting low prices threaten the domestic solar-manufacturing industry, Brightbill said.
"We're now up to 14 U.S. producers that have either shut down or gone bankrupt" because of artificially low prices, he said. "The chain of causation is simple and inescapable."
Amid a presidential campaign in which both candidates are eagerly talking tough on China, the case puts the White House in a tight spot. Tariffs may not be doing right by the domestic solar industry, a cause that President Obama champions. And unlike his Chinese counterparts, Obama can't simply call off the Commerce Department. It's too late to stop now.
We want to hear what you think about this article. Submit a letter to the editor or write to letters@theatlantic.com.
Olga Belogolova
is an associate editor at
InsideDefense.com
in Washington, D.C., where she covers the Navy. She was previously a staff reporter at
National Journal
, where she covered energy policy and other global issues.