Once again, the man who once captured the imaginations of millions delivered an emotionless appeal.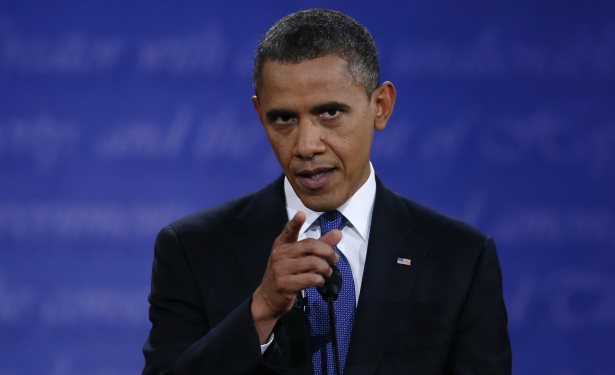 Reuters
It was the most tweeted about political event of the year, and for once the insider tweets matched the television insta-polls: Mitt Romney was the decisive victor in the first presidential debate of this most contested and close of elections.
It was not so much that Romney was great, though he was smooth and personable, but that Obama was not. The president appeared snippy, his eyes flashing angrily during those infrequent moments when he looked at his opponent, his lips pursed and upturned when he looked down -- which was often -- as if he were trying to smile despite sucking on a particularly unpleasant hard candy. Republicans on Thursday morning were calling it a smirk, but it was more than that. There was, in the expression, a mixture of annoyance, impatience, and dislike. Either Obama couldn't stand looking at Romney, or he decided it was a better debating tactic to not even deign to consider him and to address hapless moderator Jim Lehrer and the audience instead of his challenger. The dynamic was set early on: Romney looked at Obama, and Obama looked down or at the moderator. His words appeared equally downbeat.
All of which made me wonder anew about Obama's convention performance, and to what an extent it was not anomalous but intentional and characteristic. I wrote then:
Barack Obama will never be that man again. Whoever he was in 2008, and 2004, Barack Obama will never have his easy swagger and rambunctiously playful enthusiasm ....

That is the truth at the core of his oddly flat convention speech, and at the center of his technically skilled but strangely bloodless reelection campaign. Whoever Obama was when he was elected president has been seared away by two active wars, the more free-ranging fight against al-Qaeda, the worst economic crash since the Great Depression, and the endless grinding fights with Washington Republicans -- and even, I am sure, activists in his own party.
It seemed even truer last night. Would Obama have gotten so significant a convention bounce if it were just about his own speech? His demeanor in Denver made me wonder if his was not in some important sense a borrowed bounce, bequeathed to him by Bill Clinton.