Romney's Major Economic Speech That Wasn't
Despite the hype, the Republican's address was devoid of new policy ideas -- but that may not have been the point.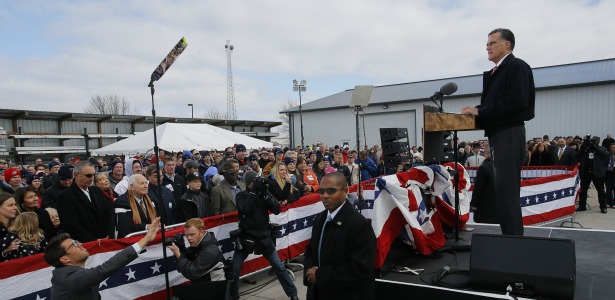 Reuters
Mitt Romney gave a supposedly Major Speech on the Economy in Iowa on Friday. He spent the morning holed up in speech prep; his campaign sought to stoke anticipation by sending out selections from the speech in advance. Romney entered to the grand strains of the Air Force One theme, a black zippered jacket over his shirt and tie.
But there was nothing groundbreaking in the speech. Of the 2,700 words in Romney's prepared text, the first 1,500 consisted of a familiar critique of Obama and his campaign. The president, Romney said, has sought "to deflect and detract, to minimize the failures, and to make this election about small shiny objects," while his handling of the economy has not achieved the results he promised.
Finally, after about 11 minutes (out of a 20-minute speech) of describing how bad things are and how many things Obama has done wrong, Romney got around to reciting his five-point plan. And after 600 words of forward-looking but hardly new stuff about his plan, Romney segued into a competence argument -- "I know something about leading because I've led before." The rest of the speech consisted of substance-free promises to make things better, punctuated by Romney's new mantra of "big change."
This was hardly a major policy address, and when I went back and checked the press release announcing the speech I realized that it was never actually billed as such -- it was simply "a speech on the American economy," in which Romney promised to "present his argument to the American people that we are at an inflection point in the history of the country."
So there was no false advertising, but it was nonetheless odd that Romney would attempt to distinguish as a major oration something that was not much different than his everyday stump speech. It was a couple of days ago that Romney started using the "big change" slogan, which actually was a new message -- and a potentially effective one given the way it highlights how far Obama has strayed from his 2008 brand to become, in Romney's words, the "status quo." If there was a new argument Romney unveiled this week, it was that, not Friday's economic speech.
The point of the speech, for Romney, may have been simply the idea of a speech on the economy -- to communicate to voters who hear no more than a headline that Romney is going around the country talking about economic matters. (Similarly, the point of Romney's five-point plan and its ad nauseam repetition is to drill home the idea that he has a plan, not to produce a coherent economic blueprint. And it seems to be working: In focus groups, voters are very clear on the fact that Romney has a five-point plan even when they can't say what it is, and Obama has been forced to up the ante on plan-havingness in response.) When voters, especially women voters, think primarily about the economy, Romney wins. When they think about other things -- like whether pregnancies from rape are God-willed -- Romney loses.
Romney has spent the past several days avoiding commenting on the furor over Indiana Senate candidate Richard Mourdock's rape remarks. More than anything he said in his "economic speech," the point of giving it may have been to talk about something other than that.