Romney's Delicate Challenge: Campaigning the Day After Sandy Hit the East Coast
The Republican presidential campaign's plan to hold a series of "relief" events in Ohio, Iowa, and Wisconsin could backfire.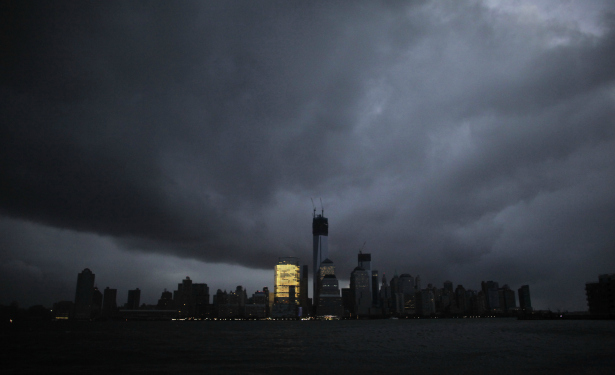 The images on national news television this morning are of fire, flood, wind, rain, snow -- and also New Jersey Governor Chris Christie and New York City Mayor Michael Bloomberg. The two leaders of states devastated by Hurricane Sandy have been making frequent press appearances to inform the public and reassure beleaguered residents that help is on the way and areas devastated by Hurricane Sandy will be repaired.
Into that mix of nonpartisan horror footage will stride Mitt Romney, a man without an elected office, looking for a way to stay relevant and appear presidential while the real president has ceased campaigning to monitor coordination of response efforts.
Romney's campaign declared Monday that it would stop campaigning "out of sensitivity for the millions of Americans in the path of Hurricane Sandy," as Romney Communications Director Gail Gitcho put it in a midday statement. Events in Wisconsin with Romney and Paul Ryan in Melbourne and Lakeland, Florida, were scrapped.
"We are also canceling all events currently scheduled for both Governor Romney and Congressman Ryan on Tuesday," Gitcho added. "Governor Romney believes this is a time for the nation and its leaders to come together to focus on those Americans who are in harms way. We will provide additional details regarding Governor Romney's and Congressman Ryan's schedule when they are available."
By Tuesday morning the new schedule was in effect -- and it involved a fresh array of events in swing states, this time with a hurricane theme. "Gov. Romney is scheduled to attend a storm relief event at the James S. Trent Arena in Kettering, Ohio, where he will be joined by Richard Petty and Randy Owen and help collect donations for storm-relief efforts," the Romney campaign announced. Randy Owen is a country music artist and Richard Petty is a former NASCAR driver.
Ryan, for his part, will visit two Romney "Victory Centers" in Wisconsin to "thank volunteers who are delivering or collecting items for storm relief efforts."
In the evening, Ann Romney will "attend a Victory Rally at the Temple for the Performing Arts in Des Moines, Iowa" -- an explicitly campaign-related event -- after visiting Romney "Victory Centers" in Iowa and Wisconsin earlier in the day for "Storm Relief Collection Efforts."
The danger for Romney is that by holding "storm relief" events in parts of the country rather far from the most devastated patches, and by having his wife and vice-presidential running mate go only to Republican events, he will look like he is continuing to campaign after having said he wouldn't just the day before. An even greater risk is that the Romney campaign events at these locations will inevitably appear partisan at a time when even politicians like Christie are praising the president and working with him to respond to the disaster as one unified national team. Americans like to pull together in times of tragedy and disaster; what they don't like is when politicians appear to seek advantage from their suffering without doing anything to provide substantive aid.